Doubling Down on Inland Waterways: Gigantic Barges Are Anchoring America's Supply Chain Resilience
To alleviate the pressure on an increasingly burdened supply chain, could gigantic barges on inland waterways offer a way forward?
Amidst the backdrop of a rapidly transforming logistics landscape, the U.S. is harnessing the enhanced capabilities of inland waterway gigantic barges to fortify its supply chain. As logistical norms pivot in response to environmental challenges and shifting economic pressures, such as drought-induced waterway disruptions and increased transportation costs, innovative solutions like the container-on-vessel (COV) service are emerging. This service, supported by significant infrastructure investments, seeks to streamline the flow of oversized cargo through expansive marine highway systems, offering a promising alternative to overburdened land transportation networks.
Further strengthening this network, the U.S. Department of Transportation recently announced the addition of two new marine highway systems, extending 250 miles to the Ohio River system and 6,500 miles of Alaskan waterways. This expansion is part of a broader effort to enhance the efficiency of freight shipments, improve port operations, and maintain affordability in the supply chain​​.
How are these evolving capacities of inland waterway gigantic barges reshaping the domestic supply chain management landscape, especially in transporting oversized cargo?
In addressing this critical aspect of logistics, Pradip Shukla, Ph.D. an Associate Professor of Management at Chapman University, emphasizes the increasingly crucial role of these gigantic barges, particularly as they grow in capacity and offer cost-effective solutions amidst rising labor and transportation costs in other sectors. "In the past, we would have up to 1500 tons capacity on a barge, and now we're seeing that the newer barges are twice as large in terms of capacity, and they do play an important role, and they'll continue to play an important role, especially if labor costs have increased for truckers, there's shortages of truckers available, and rail costs have also increased, so the barges will continue to play an important role in domestic supply chain management," Shukla said.
Article by James Kent
Latest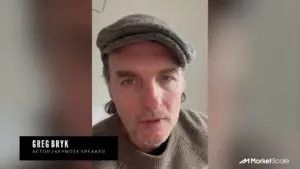 November 30, 2023
In a crowded marketplace, authenticity could be the strongest differentiator in standing out from the competition. Actor and Keynote Speaker Greg Bryk shares his insights on making a mark, on-screen and in the B2B arena. Bryk emphasizes the power of authenticity over pandering to the audience. He explains, "The way to stick out from […]
Read More