From Potential Strikes to Bankruptcies, the Supply Chain Took a Few Punches This Summer. What's the Outlook for the Rest of 2023?
In the past few weeks, the logistics industry has faced unparalleled challenges. From narrowly avoiding the costliest strike in US history, to major players like Yellow Corporation declaring bankruptcy, it's evident that the supply chain is experiencing significant turbulence. Amidst this, industry reports indicate a "market cycle slump," even as the growth of e-commerce continues to exert pressure on the supply chain. Additionally, inflation continues to have ripple effects on the stock market forcing some companies to make cuts. So, where does the logistics industry currently stand, and how can companies maneuver this tumultuous terrain?
Is the logistics industry in the midst of a paradigm shift, or merely experiencing a temporary bump in the road?
Marketscale's host and Voice of B2B, Daniel Litwin, sat down with Brett Demmers, COO of Accurate Transport, to explore the current state of the logistics industry and its larger supply chain implications. The discussed Yellow Corp.'s closure, and another company trying to fill its role for profit gains. As well as how fluctuating demands are significantly impacting the stability of the logistics industry.
During their conversation, the two also explored:
How the headlines of potential strikes to bankruptcies are having an impact on the larger supply chain.

The logistics industry adapting to reports suggesting that e-commerce is still strong

As Accurate Transport sees positive growth amidst challenges, what are they doing right, and what can other companies learn?
Brett Demmers brings a wealth of experience to the table, with approximately 20 years in the logistics, transportation, and warehousing industry. His tenure has seen him work with giants like Maersk and now, at Accurate Transport, he's at the forefront of navigating the industry's present challenges.
Latest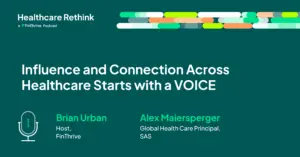 September 29, 2023
In the latest episode of the Healthcare Rethink podcast, presented by FinThrive, host Brian Urban sits down with Alex Maiersperger, the Global Principal Healthcare at SAS. Their conversation charts the role voice plays in influencing and connecting the healthcare industry. Maiersperger, who co-founded the Advancement League, shares his journey from being a healthcare optimist to […]
Read More