America's Railways Get Funding, but to Compete Globally Passenger Rail Needs More Attention
As $1.4 billion in government funding makes its way through America's Railways, is there enough thought towards the future of passenger rail?
The Biden-Harris Administration has earmarked a historic $1.4 billion from the Bipartisan Infrastructure Law, channeled through the Federal Railroad Administration (FRA) of the U.S. Department of Transportation (USDOT), for 70 rail projects spanning 35 states and Washington, D.C., marking a milestone in funding for rail safety and supply chain enhancements under the Consolidated Rail Infrastructure and Safety Improvements (CRISI) program. This initiative, resonating with President Biden's Investing in America agenda, aims to modernize the nation's freight rail network, substantially benefiting rural communities by improving rail infrastructure, reducing shipping costs, and fostering workforce development. Among the notable projects is the Gulf Coast Corridor Improvement Project, receiving over $178.4 million to revive passenger rail services in Alabama, Louisiana, and Mississippi, and a $72.8 million allocation for infrastructural upgrades on the Palouse River & Coulee City Railroad in eastern Washington, pivotal for the wheat supply chain.
How might the $1.4 billion investment in rail infrastructure catapult the American rail industry's global competitiveness, especially considering the balance between freight and passenger rail systems?
Mark Gavoor, an Associate Professor of Operations Management at North Park University, sheds light on the potential ripple effects of this massive financial injection. "So, it looks like most of these projects, from my quick look at it, seem to be geared towards safety more so than efficiency. And that makes total sense. It's long overdue in this country. I also think that we should seriously look at passenger rail as well. We're by any measure woefully behind China, the countries in Europe, and high-speed rail in Japan," Gavoor articulates, nudging the conversation towards the broader spectrum of infrastructural advancements and their pivotal role in revamping freight and passenger rail systems in the U.S.
Article by James Kent
Latest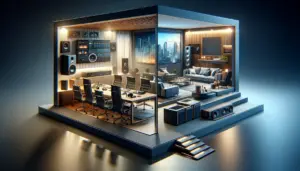 November 27, 2023
In this episode of "Pro AV Today," host Ben Thomas sits down with Audra Kinsley of Sonos Professional to unpack a topic that's causing (sound) waves in the audio industry: the fusion of commercial and residential audio systems. As we navigate through a landscape where consumer and professional audio worlds are increasingly intersecting, Sonos steps […]
Read More