Southwest CEO Speaks on Pent Up Travel Demand, Industry Outlook and more
Southwest CEO Gary Kelly says "no question the worst is behind us," as he discusses first-quarter results, consumer and business travel demand, and the relaunch of Boeing 737 Max jets. Watch or read more below.
Host: You talked in the statement today and on the call about the worst being behind us, quote, what is it going to take to get your airline back to being cash flow positive? What needs to happen between now and then?
Kelly: Well, mechanically, I think two things, one is the demand for travel needs to be their number one. And then number two, we've got to increase our flying our flight activity to be able to support that. So at the current levels that we're flying, we can't be profitable. We need more flights to cover our overhead, if you will. But it's just getting the balance correct. There's no reason to add flights if they're not going to be occupied by customers. So we're looking ahead to June as an example. And in June, we're going to be flying 96% of the capacity that we had in June of 2019. So that gives you some indication of where we think we're going to be. And and by the way, that's with a very modest business travel component. So I'm excited. You know, we've added almost 17 new destinations by that time to our route map over the course of the last 12 months. And so that's helping to absorb some of our capacity. And we're definitely seeing an improvement. And no question the worst is behind us.
Host: Yeah, Gary, and you were super positive on the call as well, really, that the pent up travel demand for vacations, for example, and then leading you to that 96% capacity of 2019 levels, what's your level of confidence that will be sustained in that? I'm not going to go on 12 vacations. Right I'm probably going on. One maybe to give me a little bit broader perspective.
Kelly: Well, I'm less confident about that and, you know, as I've tried to tell everyone, let's just get to the summer, let's see what may and June look like. Let's see what the outlook for July, August travel looks like in June. And obviously, at that point, we can give you a much clearer read on that. But, yeah, it's possible that there is pent up demand. It gets satisfied here in a very short period of time. And then we lapse back. I'm not predicting that, but we're just going to have to manage through this and be very, very careful. And as I said earlier, we've got to get the balance of flying activity compared to demand. We've got to get that right. And not waste any money. At the same time, we certainly want to be there with the right capacity level to meet the demand, because that's where our ability is to break even. And then make profits.
Host: Gary, I've talked to a whole load of airline CEOs this week, and most of them aren't particularly optimistic on a business bounce back. Some don't even expect it to come back in anything like the kind of shape that it did before. What is your belief in terms of how business will come back? What are you anticipating at the moment? You're obviously being very cautious. Does it come back in a pre pandemic level or have we permanently changed the landscape here?
Kelly: Well, and I'm the eternal optimist as well, but, you know, one has to be realistic, and I think more importantly, you just have to have a plan that sustains the enterprise. And that protects jobs, protects service to communities, all of those things. we need to be smart about this. I think business travel will come back. And when I say that, I mean to 2019 levels. But I think it could be a really long time. And anybody who's honest with you would tell you, they would admit there's no way to know. So we talk to our business customers, the large managed accounts, if you will, and they don't give us a very clear line of sight. Now, business travel will definitely be increasing over the next several months compared to what it's been. I have no doubt about that. But that will still be far below where it was in 2019. I think we've talked before a typical recession business travel is cut very sharply. And it is 5 years before it recovers to pre-recession levels. Wow is this a normal recession? No, but you have the added complication, as we all know, of the virtual and remote work environments that have been created over the last year or so. I think it just remains to be seen. I wouldn't be surprised if it was 10 years, you know, and there's just no way to know. We'll have to be prepared for a larger component of consumers on our airplanes. And we are.
Host: Wow, Gary. 10 years is going to take a long time for you to get that wine that I have for you sitting at my desk. You'll be bummed about that in relation, then to your pricing power, because you're obviously adding routes. You feel positive in the short term. And what kind of fares are you expecting in the spring and summer?
"I think that we have to expect that it's going to be a very competitive fare environment for the foreseeable future." – Southwest CEO Gary Kelly
Kelly: Right now, in the first quarter, our fares were still down in the 20% range, as I recall, and I think that we have to expect that it's going to be a very competitive fare environment for the foreseeable future. First of all, as we all know right now, there are too many seats chasing too few passengers. Economics 101 applies to the airline business for sure. And the price is obviously what gets all that in the balance. So every airline has money. Every airline is trying to get out of this survival mode. And work its way back to prosperity. You cannot be prosperous as an airline if you don't have customers. And right now, the way to get customers on board your airplane is fly where they want to go and offer great service, of course, but it's got to be at the right price. We're a low cost carrier. We're a low fare carrier. We don't charge bag fees for the first two bags. We don't charge change fees. We have a great frequent flyer program. We are perfectly suited to suit, to serve the consumer market for whatever their purpose is for travel. If they're out for fun, for leisure. Fantastic we've got lots of new leisure destinations as well.
Host: Gary, a few minutes ago, a statement crossed across my screen from the FAA on the max talking about electrical issues in around 106 aircraft. 71 of those are in the United States. The planes that are affected by these electrical issues will remain on the ground, according to the FAA. Gary, what is your current experience with reintroducing the max already of those aircraft going to be yours? How are customers taking to the reintroduction of the max?
Kelly: We relaunched flying the max on March the 11th, and it's gone superb, so we haven't had any issues whatsoever. We have 30 of the airplanes that you're mentioning and out of an abundance of caution, of course, those are sitting on the ground right now while we await service bulletin from Boeing, the airworthiness directive from the FAA, everything I've heard, it's a relatively straightforward fix to the manufacturing issue. So so we're I'm very, very happy with the performance of the airplane. It is important for our future. We just got a very important deal done with Boeing for the seven, which is truly going to be our future We're not going to have next certainly for the next 10 to 20 years. And every reason to believe it will continue to perform exceptionally well right now, we have a surplus of airplanes, so we're able to operate the schedule without any problem. And I'm not expecting that this issue will take long to resolve.
Host: Again, before we let you go, I just want to get your read on jobs. You didn't Furlough or do any layoffs or involuntary pay cuts, but you're bringing back some people that sort of took a voluntary leave. What's that like? Has it likes to get more pilots? What's the training like?
Kelly: Well, you know, I think the way to visualize this is it's messy. In other words, you look back over the course of the last 12 to 14 months, it was messy to adjust the airline or any business for that matter, to dramatically lower volumes. And so it will be messy coming out of this as well. And you can't just snap your fingers and expect that you're going to get back to previous levels of activity, whether you're a restaurant or whether you're an airline. So it's gone very well. And we will definitely want to keep an eye on our staffing. We're continuing. We increased. As I mentioned, we increased our flight activity significantly in mid-march. Overnight, we added 1,000 daily departures in our on time performance for the month, didn't miss a beat. So baggage handling on time performance, all of those very important metrics have held up. So well. We'll want to continue to manage very carefully. And that will have, you know, so with an eye towards quality, it will definitely have it will definitely impact our pace of increasing our flight activity post summer.
(captions are auto generated)
*Bloomberg contributed to this content
—
Follow us on social media for the latest updates in B2B!
Twitter – @MarketScale
Facebook – facebook.com/marketscale
LinkedIn – linkedin.com/company/marketscale

Latest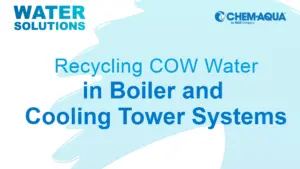 December 7, 2023
For the latest episode of ChemAqua's Water Solutions podcast, the focus was on an innovative approach to water conservation in the dairy industry. The show examined the potential of reusing Condensate of Whey (COW) water, a byproduct of dairy processing, and highlighted some of its economic and environmental benefits. Hosted by Dani Waddell, the informative […]
Read More