Tesla's Master Plan Part Three: Musk Goes Big on Ambition, Short on Bells and Whistles
Investor day didn't turn out to be Christmas in Austin, Texas. Elon Musk revealed the third part of Tesla's Master Plan, which aims to eliminate fossil fuels and convert the world to sustainable energy. Details of "Master Plan 3" include a myriad of sustainable goals through home heat pump installations, adding more electric vehicles, additional renewable power to the existing grid, high-temperature heat delivery and hydrogen for industrial applications, and building sustainable fueled planes and boats. What is the price tag for these solutions? $10 trillion in investments, including infrastructure requirements to consume less than 0.2 percent of the Earth's surface.
Indeed, the ambition and promise of a brighter future included in the third part of Tesla's Master Plan offer excitement, but investors really wanted to know, 'where's the beef?" Tesla's senior vice president of powertrain and energy engineering, Drew Baglinio, provided news of Tesla's goal to produce 20 million electric vehicles annually by 2030. In December, Tesla announced updated radar technology for their vehicles. Wall Street's immediate reaction was an 8% reduction in share price.
Does this knee-jerk investor reaction give Musk and Tesla cause for concern? Not likely. A plan, after all, is just a plan, and if Elon Musk sets forth to execute it, there will be plenty of time for investors to receive those goodies. And the goodies, in this case, are a sustainable win for the planet.
Are We There Yet's Grant Harrell, who follows every move in the larger mobility space, sees beyond some of the disappointment from Tesla's investor day and believes Master Plan 3 could be the sequel that outdoes the original.
Grant's Thoughts
"Elon Musk and Tesla's most recent Master Plan number three. Are we there yet? The answer is yes. Recently during Tesla's Investor's Day event at their Gigafactory in Austin, Texas, details of this master plan were somehow leaked.
Despite Elon's request to keep it all secret, it's now online and everywhere, and everyone's got an opinion. So here today, in less than two minutes, let's target that. I would love to share some insights about this most recent master plan and why it's important. So this most recent master plan focused on a path to achieving a sustainable energy economy.
Elon shared that it's within reach, and we should accelerate it. And so here's how we do it. And so we get there through about 240 terawatt hours of storage, about 30 terawatts of renewable energy. Renewable power requires about a 10 trillion investment, about half of the energy, and a very small amount of land, less than 0.2% of the entire world's land mass.
And there's the investment; there's the land that's required. That's how we get there, according to Elon Musk and Tesla. A lot of backlash online about this most recent master plan. Many people are out there saying, "gosh, do we need another path? And we have so many directions to achieving the sustainable energy economy; do we really need another one?" And, I say yes until we get there, why not another path, another plan?
And especially coming from someone like Elon Musk and Tesla, who are very qualified to chart what they believe this path might be. I'm all for it. So, there's Master Plan number three.
Master Plan number one and two. The first one was released in 2006. It had more to do with automotive manufacturing within Tesla was all about building a sports car. Now, using that money to build an affordable car, using that money to build an even more affordable car, and while doing all that, providing zero-emissions electric power generation options. Overall, Master Plan number one, 2006, is pretty spot on.
A lot of debate about it, but in my opinion, I think the opinion of most was pretty accurate on that first Master Plan. Master Plan number two talked more about solar creating stunning solar roofs with seamlessly integrated battery storage, expanding their electric vehicle options.
They certainly did that through some of the newer Tesla options and meeting demands like families and SUVs. It also had to do with developing self-driving capability. That's ten times safer manual versus massive fleet learning, for example. And then also enabling your vehicles, your Teslas, to make money for you why you aren't using it.
That second one, overall, is pretty accurate. Maybe not as accurate as the first, but in general, achieved most of those milestones and still working on achieving some of those things even today in 2023. So overall, Master Plan number one and Master Plan number two are pretty accurate.
Master Plan number three, in my opinion, will also prove pretty accurate. So, there are my thoughts. Are we there yet? We are, we have the most recent master plan. Time will tell how accurate Elon is, but if you look at his track record, he's pretty good. And I imagine this plan will be as well."
Article written by James Kent.
Latest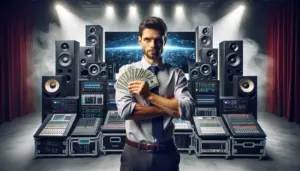 December 8, 2023
Mastering AV sales strategies in a global professional audio-visual (Pro AV) market, poised to reach $79.2 billion by 2028, requires much attention to detail. The surge in demand from corporate, government, and institutional sectors, driven by the need for enhanced productivity and efficient working environments, gives AV sales pros a lot of opportunity. In […]
Read More