5 Photographers Share Quick Tips for Amazing Aerial City Photos
From helicopters to drones, there are a number of ways to start shooting aerial photography. Discover the strategies behind incredible aerial images of cities with tips from these experienced photographers.
In 1860, a photographer by the name of James Wallace Black boarded a tethered balloon called the "Queen of the Air," and from his elevated vantage point, he captured the sprawling city of Boston. At the time, the poet and professor Oliver Wendell Holmes wrote, "As a first attempt [at aerial photography], it is on the whole a remarkable success; but its greatest interest is in showing what we may hope to see accomplished in the same direction." Today, Black's albumen silver print is the oldest surviving aerial photograph, and, of course, the passage of time has proven Holmes correct.
Over the course of many decades, the technology has changed, but our fascination with aerial cityscapes remains as strong as ever. As metropolises around the globe continue to grow to new heights, photographers seek gravity-defying perspectives. These days, there are more aerial photographers than ever before, and different locations have various laws and regulations in place to keep everyone safe.
We asked five talented Shutterstock contributors to give us some insight into how they approach aerial photography in 2018. They use different gear and fly by different means, including planes, drones, and helicopters; one, like Black, even prefers balloons. And while they've photographed cities across the world—Warsaw, New York City, Taipei, Tel Aviv, and Melbourne, to name a few—they all share a passion for the skies. Read on to learn how they research and plan for unforgettable shots.
Read more at Shutterstock
Latest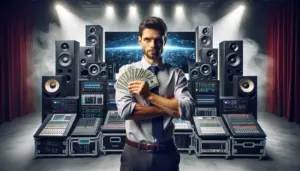 December 8, 2023
Mastering AV sales strategies in a global professional audio-visual (Pro AV) market, poised to reach $79.2 billion by 2028, requires much attention to detail. The surge in demand from corporate, government, and institutional sectors, driven by the need for enhanced productivity and efficient working environments, gives AV sales pros a lot of opportunity. In […]
Read More