Why Filmmakers Should Always Watch the Director's Cut
Take a look into famous "director's cuts" and what filmmakers can learn from watching movies the way they were meant to be seen.
In a recent episode of his Team Deakins podcast, legendary cinematographer Roger Deakins opened up about his wish to revive a long-lost four-hour cut of Andrew Dominik's neo-western The Assasination of Jesse James. He details his praise of the film, as well as his frustrations with how the film was cut down to 160 minutes. Meanwhile the "pure" version was sent to the cutting room floor—perhaps never to be seen again.
Read more at Premium Beat
Latest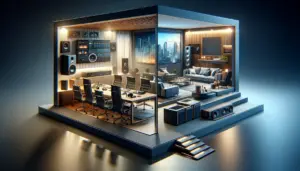 November 27, 2023
In this episode of "Pro AV Today," host Ben Thomas sits down with Audra Kinsley of Sonos Professional to unpack a topic that's causing (sound) waves in the audio industry: the fusion of commercial and residential audio systems. As we navigate through a landscape where consumer and professional audio worlds are increasingly intersecting, Sonos steps […]
Read More