Gear Review: Does the Sony A7SIII Live Up to the Hype?
The Sony Alpha 7S III, released earlier this year, boasts a powerful lineup of features touted as significant improvements to your footage's quality, your camera's reliability and your workflow's efficiency.
But does it live up to the hype?
MarketScale Video Production Specialist and cinematographer extraordinaire Dylan Tidmore put the A7SIII through its paces, and he's ready to share his impressions of one of Sony's latest offerings.
Tidmore ran the gamut of features, file formats (he shot in XAVC S 4K) and more to provide a holistic overview of how the camera performs out in the field.

Key discussion points included:
• The differences in file formats

• The Cine 2 Pro punchy, less dynamic color profile for low-light situations

• The control and range provided by the S-Log2 color profile

• The tradeoff between control and range and longer color correction in S-Log3

• Other features, such as face detection and autofocus
"One of the things we liked straight out of the box with the A7SIII was the face detection with the autofocus feature," Tidmore said. "This is incredibly powerful when you're with a client and you want to do a walk-and-talk through their facility or follow them around an office. … It really relieves us of having to lock in that focus."
The video also includes dynamic b-roll shot with the A7SIII, as well as some shots in low-light scenarios, highlighting the camera's full range of capabilities.
Latest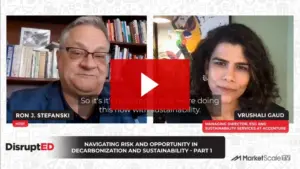 September 26, 2023
The global conversation has shifted dramatically towards decarbonization and sustainability in recent years. With the world experiencing unprecedented levels of disruption, from 5G technology to the challenges of a pandemic, the urgency to address climate change and its implications has never been more palpable. Although most business leaders see the vision of Sustainable Development […]
Read More