5 Things Agencies Look for When Hiring Freelance Videographers
Here are five insights into landing those lucrative freelance agency gigs — and the guide to holding onto them once you do.
In my time, I've been lucky enough to be on both sides of the freelancer table for agency video production gigs, and let me tell you that it's just as fickle and arbitrary as you might fear.
From a freelance videographer's perspective, agency gigs can be some of the best, most lucrative jobs on the market. If they're for large enough companies and brands, you can expect some of the best pay rates, plus peace of mind that you'll be covered for your time and expenses. You can also be sure that your client won't simply disappear —  you'll be paid for your work. (Although, often, you have to wait months for your paycheck to process.)
From an agency's  perspective hiring a freelancer, working with outside videographers is usually a last resort, when in-house resources can't fill the need. As a result, the gigs can often be rushed or last minute, and they require someone who can dive in immediately.
Together, a symbiotic partnership is definitely possible, but both parties should strive to be aware of (as well as realistic about) what a freelance videographer can and should bring to the table.
Read more at Premium Beat
Latest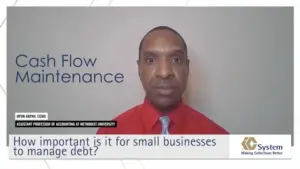 December 8, 2023
Effective debt management through a robust accounts receivable system is essential for small business cash flow and growth, necessitating automated payment schedules and strategic policy adjustments. Collaborating with a collection agency as a strategic partner can enhance revenue recovery while preserving positive customer relationships. How critical is effective debt management for the financial health […]
Read More