Add Flavor to Your Footage by Implementing Color Science
The term "color science" gets thrown around a lot in the camera world, but what is it and how does it effect the images we shoot? Let's break it down.
Color science, in the camera world, is very different from the science of color (or how the human eye interprets light of different wavelengths as color). Color science is also not the physiology of color, or how different colors affect our memories or emotions — but it is related. (We'll get to that later.)
Color science is how a particular sensor, or brand of sensor, changes the colors it reproduces. Built into the camera's sensor, color science is essentially an internal LUT, or Look Up Table.
It would be fair to ask why camera manufacturers would manipulate the colors coming off of the sensor. Why not just let the sensor capture the entire range of colors, giving everything to the photographer or filmmaker so they can manipulate it in post?
Read more at The Premium Beat
Latest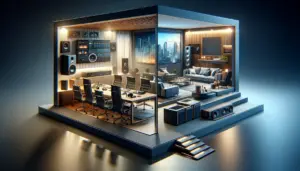 November 27, 2023
In this episode of "Pro AV Today," host Ben Thomas sits down with Audra Kinsley of Sonos Professional to unpack a topic that's causing (sound) waves in the audio industry: the fusion of commercial and residential audio systems. As we navigate through a landscape where consumer and professional audio worlds are increasingly intersecting, Sonos steps […]
Read More