Video Tutorial: Which Frame Rate Should You Be Using?
We've all got our frame rate habits, but all film and video projects are different, so one size does not fit all. Here are a few elements to consider.
I'm not the only shooter who instinctively sets their frame rate to 120 fps when arriving at an epic location. It's easy. It's beautiful. It's . . . lazy?
After being an avid user of that frame rate for over a year, I've changed my approach, diversified my selections, and found new beauty in limiting myself to other frame rates like 24, 60, and . . . get ready for it . . . 950.
Here's why I began diversifying.
Read more at Premium Beat
Latest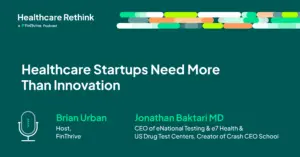 December 11, 2023
Healthcare startups need more than innovation; they require dynamic leaders willing to take these endeavors beyond the ordinary into uncharted waters to generate unparalleled success and lead the industry forward. In the latest episode of The Healthcare Rethink Podcast, host Brian Urban sits down with multifaceted healthcare leader Jonathan Baktari, MD, CEO of eNational […]
Read More