Aedan Fida Explains How Blade Air's Expertise, Strategy, and Innovation Can Help Businesses Meet Customer Needs
Dallas, TX – COVID-19 has made people more aware of the importance of indoor air quality to their physical and mental health. As a result, the market is flooded with products that claim to protect people from all sorts of airborne assailants. But how do consumers know what works? More importantly, who can businesses partner with to find solutions that work?
Guest Aedan Fida, CEO and Co-Founder of Blade Air attempts to answer this question on today's episode of Conversations from The EDGE with Service Logic. He answers pointed questions from hosts Michelle Dawn Mooney and Greg Crumpton, Vice President of Service Logic, about the ebb and flow of interest in indoor air quality and how businesses should meet customer needs.
Aedan Fida speaks in-depth about Blade Air's innovative approach to industry problems like strategic, customer service-oriented partnerships with businesses, a suite of products to meet customer needs, and regulatory-compliant practices to address climate change.
Fida believes what makes Blade Air different is that they're concerned with the entire HVAC system, not just the products they sell. He wants to address what people are looking for to avoid "trying to fit a square peg in a round hole." In doing so, they've celebrated major wins like partnering with the Peele School District in Canada to install HVAC solutions in every school building.
Listen to today's episode on Apple Podcast, TuneIn, or wherever you find your favorite podcast.
About Blade Air:
Aedan Fida is the CEO and Co-Founder of Blade Air. Blade Air's founders came together to find a way to create replaceable cartridges that can both save money and time. They've found success in Canada having serviced over a billion cubic feet of air. Blade Air hopes to expand into the U.S. market to meet the challenges of horticulturists, businesses, and schools.
Contact:
Blade Air
123 Main Street
Dallas, TX 75201
www.bladeair.com
afida@bladeair.com
Latest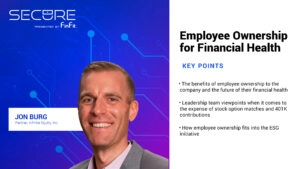 June 8, 2023
Dallas, TX – The newest podcast episode of SECURE by FinFit explores the rising trend of employee stock ownership plans (ESOPs) and how they impact employee behavior and financial resiliency. According to Gallup, 58% of Americans owned some form of stocks in 2022, but only around 4% of the U.S. population participate in ESOPs. However, […]
Read More