What Industry Leaders Are Saying About the Future of Airports
A Conversation with the Airport Design Experts
To learn about any industry, it is a good idea to start with the experts. Recently, we explored the airport of the future and technology's role in its evolution. MarketScale spoke with Alliiance Principals Eric Peterson and April Meyer, and Associate Ben Johnson to get their perspectives on the future of airport design. Alliiance is a full-service architecture and design firm that creates inspired environments. The three all focus on airports and gave their thoughts on what the future of airports looks like.
Change Is Coming
One of the most significant changes that airport facilities will face, and are currently facing, is the restructuring of the check-in experience. Those ticket halls, which already have some degree of self-service, will probably cease to exist in the way that we know them. Ticketing and checking bags will soon be something that requires no human interaction. Passengers will simply scan in their bags and send them on their way.
So, what's to become of all this space once needed for long queues? Peterson, the firm's head of aviation said, "The steps it takes to check-in will be reduced tremendously, which means there's no need for big ticket halls. Instead, we're working with airports now to create lounge areas with comfortable seating and local art. We're working with MSP (Minneapolis-St Paul International Airport) on turning this unused space into a setting you'd see in the hospitality industry."
Get What You Need Delivered to Your Gate
Some airports are testing out new services that allow passengers to order anything, from a pair of headphones to lunch. In fact, Nashville International Airport now delivers alcohol to passengers at the gate. Johnson said of this trend, "The airport experience is going to start before you're even there. Imagine being able to order something while you are en route, then it's at the gate. This is convenient and smart. The question becomes what type of portal will power this? It may be the airport itself or different service partners."
Security Wait Time—Know Before You Get There
Another important area of the airport is security, which will certainly continue to evolve to make lines go faster. But what about informing the passenger? Currently, many airports display wait times on digital signage at the gate. It would be more beneficial if passengers knew ahead of time.
"Right now, many airlines have apps that tell you where your gate is or where your baggage is. In the future, these apps may be able to push information to you about what security lines are open and which has the shortest wait time. If you know this before you even walk into the airport, then you aren't wasting time," Peterson said.
Restrooms Get Smart
Bathrooms are an amenity that every airport must maintain. Now, and into the future, the maintenance of these areas matters immensely. With Internet of Things (IoT) devices and digital signage, the bathroom experience is enhanced.
For example, digital boards can inform customers if the facilities are closed for cleaning and where the closest bathroom is. With sensors, airport maintenance workers can know exactly how many people have used the restroom, which should let them know when that location needs service.
"Airports have the ability to intake a lot of data around restroom usage. They can also integrate that information with arriving and departing flights. This could direct maintenance workers to wait to service a restroom across from a gate that has just landed. There is likely to be a rush to use the restrooms, so you wouldn't want them to be closed for cleaning in that situation. This real-time analysis of what's happening in restrooms creates a more efficient process," Johnson said.
Wellness—How Airports Will Deliver on This Need
Airports are known to be a place of high stress, even with the modern amenities they possess. Knowing the frantic and rushed state travelers are in upon arrival, airports are beginning to focus on wellness.
"Trends in other industries have definitely influenced the airport. Airports are unique environments, where you have a very diverse group of people. One feeling though that passengers have is stress and anxiety. That's universal," Meyer said. "Airports want to de-stress their guests, and they are doing so with wellness programs. You are seeing more spa and massage spaces as well as things like meditation areas. This is an important trend that will continue to be an important aspect of the future passenger experience."
All the nuisances of such a distinctive setting mean it is always going to be changing to better meet the needs of the passenger and the operational aspects. It is an exciting time in airport design, and there is much to look forward to in the future.
For the latest news, videos, and podcasts in the AEC Industry, be sure to subscribe to our industry publication.
Follow us on social media for the latest updates in B2B!
Twitter – @AECMKSL
Facebook – facebook.com/marketscale
LinkedIn – linkedin.com/company/marketscale
Latest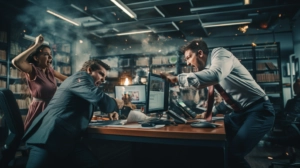 September 22, 2023
The kind of news that is delivered everyday serves as a grim reminder of the escalating violence across the U.S. Evidently, the need for proactive measures to ensure safety has never been more pressing. Such violence is not limited to any particular locale. It's actually permeating in so many different areas once considered […]
Read More