Designers Should Prioritize Proper Color Temperature in Exterior Lighting Designs to Serve Their Communities
As society grapples with the intricacies of modern life, the influence of exterior lighting on our psychological and physiological well-being has begun to draw attention. It's not just about illuminating the darkness anymore; it's also about respecting the natural rhythms of our bodies and fostering meaningful human interactions. A key factor here is the color temperature of the light—how warm or cool it appears—and what's the best type of lighting for a specific time of day. This nuanced approach to lighting can enhance the safety and comfort of pedestrians, drivers, and anyone else navigating public spaces after sunset. 
Furthermore, well-thought-out lighting design could potentially stimulate a more vibrant and open community life. Imagine the impact on our cities, if they were not only more illuminated, but also more engaging and welcoming. Shedding further light on this fascinating interplay of design, light, and societal well-being is Shayva Steinberg, Professor of Lighting and Acoustics for Interior Design at George Brown College. 
Steinberg has two decades worth of experience in the interior design space.  The Toronto-based designer is also the owner and operator of shaype, where she consults and designs spaces adhering to custom preferences, such as lighting and spacing suggestions and needs. By using the Kelvin color temperature as a measure, Steinberg explained certain ratings are scientifically more suited to specific environments. Additionally, she explained the influence lighting can have on human well-being, and what color temperatures designers should prioritize.  
Steinberg's Thoughts
"We should be designing our exterior lighting so that the time of day is well suited to the color temperature of the lighting. So usually our exterior lighting is only going on at night, so it should always be warm. So park lighting should be warm lighting, 3,000 Kelvin or less. Lighting in street lamps should be warmer. It doesn't need to be any less bright, it simply needs to be warmer, as does the lighting of headlamps for cars. These super bright LEDs that are very cool are really hard for our eyes when it's oncoming traffic, for our eyes to adjust to that oncoming traffic light temperature, but also difficult for our biology to process it at that time of night. It should not be so bluish. 
"So, we need to be concerned about color temperature, not just color like red, orange, yellow, green, blue, purple, but we need to be concerned with color temperature, like how warm, how red, or how cool, how blue is the light that we're putting in here, and is it suited to the time of day. So, that's what I have to say about lighting design and how we can prioritize it more. I do believe that having more well-lit areas will provide the opportunity for better communication, for more cultural openness, and the possibility of people interacting with more strangers, interacting with each other more freely in the outdoors. I would really love to see that happen, especially in Toronto where I think a lot of us walk around with blinders on and kind of don't necessarily acknowledge other people around us."
Latest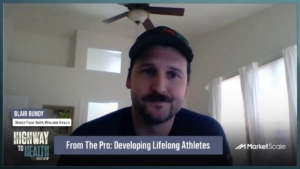 September 20, 2023
Blair Bundy, the Director of Player Health for the Milwaukee Brewers, recently shared his insights on the importance of nurturing lifelong athletes from a young age. He emphasized that the ultimate goal for children participating in sports is not just about winning games but about fostering physical and mental resilience. Such individuals lessen the strain […]
Read More