The Evolution of Queuing, and Modern Solutions for Age-Old Challenges
As a world of consumers, we understand the necessity of lines, but at the end of the day no one likes to wait. Companies, from retailers to DMVs to post offices, have long sought ways to more efficiently serve customers, which eventually generated the first queuing system. Decades later, modern queuing systems are becoming more prevalent and more sophisticated. Today, we welcome Michael Berg, CEO of NEMO-Q Inc., a provider of queuing systems that help companies manage customer flow, to take us on a journey through the history of queuing.
Modern queuing systems, beyond pulling a piece of paper from a tab on the well, are a rather young product in a young industry, with their first implementation in the 1970s. "The first system was designed for a post office in Sweden in an attempt to reduce labor costs and serve customers better. It was rather simple, allowing customers to push a button for stamps, packages, or other services. This then created multiple queues that allowed workers to deal with shorter transactions first, like stamps," Berg said.
As people saw the value, queuing systems evolved quickly and became used more and more. "The first iteration was a black box with a microchip, then in the late 1980s, the next version looked like a game console with lots of keys. It was rather cumbersome and complex. Then, came the next version that used PCs," Berg said. "Yet, there wasn't much change in how the system worked. It was still 'take a number and wait for it to display.'"
Like any technology, queuing systems didn't stay stagnant, and a lot of development activity took place that utilized data to inform innovation in design and operations.
"There are two aspects to wait time. First, there is how much time a person waits versus how long it takes to complete the transaction. Our system measures these things, and wait time and transaction time are in good relation to one another; companies have to look at ways to change this," Berg said.
"Next, there's perceived wait time. As wait time increases, people tend to think they've waited longer. So, we have the ability to present the estimated wait time at the beginning to impact the perception," he said.
What Berg has found out most recently that has a tangible effect on wait time is the integrations of digital signage with queuing systems. Those in line have something to look at, which Berg has found reduces perceived wait time immensely.
For the latest news, videos, and podcasts in the Building Management Industry, be sure to subscribe to our industry publication.
Follow us on social media for the latest updates in B2B!
Twitter – @BuildingMKSL
Facebook – facebook.com/marketscale
LinkedIn – linkedin.com/company/marketscale
Latest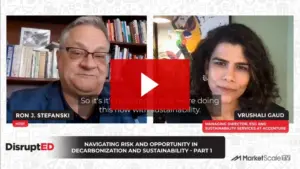 September 26, 2023
The global conversation has shifted dramatically towards decarbonization and sustainability in recent years. With the world experiencing unprecedented levels of disruption, from 5G technology to the challenges of a pandemic, the urgency to address climate change and its implications has never been more palpable. Although most business leaders see the vision of Sustainable Development […]
Read More