Importance of Trusting Relationships and Finding Humor While 'SWFH'
Taz Southerland, senior facilities manager at Walmart, revealed to Hosts Tyler Kern and Greg Crumpton how he brought humor to the 'work from home' era of the pandemic, the importance of relationships — whether virtual or in-person — and the unique story around his nickname Taz.
When Walmart Corporation moved employees to work from home (WFH), Southerland brought light to the situation by connecting with his fellow WFH followers by including the abbreviation WFH in all his social media posts. To up the sarcasm, Southerland decided to celebrate the one-year anniversary to 'SWFH,' or still work from home. This commitment to authenticity, humor and ultimately creating human (virtual) connection, is the epitome of Southerland.
Working for one of the most well-known brands in the world, Southerland has enjoyed 20 years of employment with Walmart. He currently sits at the top of the programs for equipment in the stores; analyzes the equipment's' lifespan and cost analysis; and still manages workorder requests for 5400 sites.
However, Southerland realizes the importance of creating relationships with his customers — the Walmart stores — and vendors. Developing a trusting, mutual relationship helps increase efficiencies and makes everyone's job easier.
"I have to be improving the process that takes steps out of their day to day," Southerland said of his thought process toward relationship building. "What can I do to improve my customers' lives and what can I do to improve my communication and relationship with my vendors?"
Listeners will enjoy tuning in to hear the story behind his nickname 'Taz' — unlike most who are nicknamed after the famed "Tasmanian Devil" for being 'wild,' Taz's story is unique and a glimpse into how he gained his incredible, sarcastic humor.
More Stories Like This:
Latest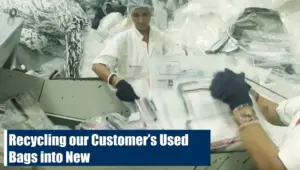 December 6, 2023
This video focuses on EcoLOK4, a groundbreaking product by CONTROLTEK that exemplifies innovation in sustainability. It highlights the process of transforming landfill waste into new deposit bags, with 90% of each bag's material being repurposed trash. This initiative not only reduces waste but also closes the sustainability loop, demonstrating CONTROLTEK's commitment to environmentally friendly […]
Read More