Are You Staying Humble as a Leader?
If you're a former employee of Kenneth Oesch, Chief Financial Officer at Piedmont Service Group, make sure to say hi next time you're logged onto LinkedIn. He feels that as a manager, one of the perks of using LinkedIn is seeing where your former employees have headed next and what they've accomplished. "It's fun to see how some of these people have developed and I'd like to think I had a little bit of influence on that. Maybe I have, maybe I haven't," Oesch said.
Oesch's teammates, and their development, are important to him. He finds that one of the keys to being successful in life and business is to build a great team and to allow their strengths to shine. "I think I think if you have a great team with you, that you treat as a team, and some of these people almost become like family members, because you spend so much time with them. That trust that you build up learning their strengths, their weaknesses, and using their strengths, to augment your own weaknesses," Oesch explained.
Oesch finds it humbling to acknowledge that even if you're very good at what you do, there is somebody in the world that can do it just as well as you can, if not better, "If you lose sight of that, I think you start getting an arrogance that as a leader, you just can't have."


Latest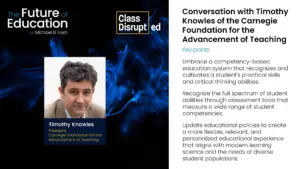 December 4, 2023
What approaches must education take in advancing teaching in a post-pandemic world? How can traditional education reshape itself to include a more dynamic, skills-based learning approach? As educational paradigms shift towards nurturing adaptability and critical thinking, leaders in the field are poised to redefine the learning framework to prepare students for a rapidly evolving […]
Read More