Authenticity in Branding is Essential, But There's No Consumer Trust Without Evident Care
In the recently released "2023 Brand Authenticity Report" by U.S.-based market research firm Breakthrough Research, the study surveyed over 5,000 respondents and evaluated more than 100 national brands, highlighting the significance of authenticity in branding to drive positive first impressions and foster enduring connections.
Why is authenticity in branding so integral?
Dan Braker, founder of Breakthrough Research, emphasized that authentic brands not only achieve superior financial performance but also build robust communities and are perceived to offer higher-quality products.
A Resource Center study found that Gen Z consumers prioritize authenticity, with 82% trusting brands that use real customer images in advertising and 72% favoring companies supporting social causes. Product quality, positive reviews, and exceptional customer service build trust. As the rise of social commerce primes to outpace traditional e-commerce, reaching $1.2 trillion by 2025, to harness this potential, businesses must stay true to their values, ensuring content quality and brand authenticity to foster revenue and loyalty.
Is authenticity alone enough for brands to attract consumers? Greg Bryk, Film & Television Actor, Thought Leader, and Keynote Speaker, has spent his career finessing the art of performance and nuances of delivering an authentic role for his projects. Bryk says authenticity carries a lot of weight, but without caring, it doesn't mean much.
Greg's Thoughts
"Authenticity is incredibly important for any situation in where you want to create a connection. That's true as an actor with an audience, but it's true for brands as well. But authenticity is a bit of a funny word because you can be authentic without caring about your product. And I think caring is what matters most.
I think you need to find the things about your product that are exciting to you and then share that excitement with your customer. If you can do that, and it's a creative act, is to actively search for those things that excite you in your product. And they can be little things, those little details that sort of make your product stand out, that drew you to it in the first place, that made you compelled to bring it to market. So, to be authentic just means to be honest. But to be honest doesn't matter if you don't care. Find the reasons you care about your product and then share those generously."
Written by James Kent
Latest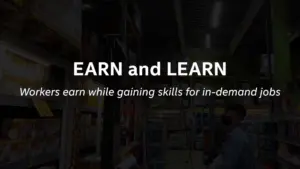 November 30, 2023
Faced with a significant workforce training gap, America is seeing a rise in innovative solutions, notably the earn and learn programs. These initiatives are pivotal in addressing the disconnect between available jobs and the skills of the workforce, particularly benefiting those without a four-year college degree. SkillPointe emerges as a key player in this […]
Read More