How Building Relationships Can Open The World: Straight Outta Crumpton
There aren't many people who can say they have friends in places like Iraq, Algeria, Afghanistan, Mexico and Libya, but Emily King is one of those people.
Powered by RedCircle
The CEO of Global Venture Consulting and Founder of Prospector Portal helps natural resource companies get into emerging and frontier markets, including some markets which are post-conflict. .
King wasn't always a global citizen with a passport full of stamps. She grew up in a small town in Maine but became open to a more international line of work after studying abroad in Cape Town, South Africa.
She got comfortable and developed close friends and even people she considers family by building relationships in the countries where she works.
"A lot of why I enjoy a lot of the work in those markets is because it's so relationship based. That's why we end up doing so many different things is once you build trust in these countries, people bring opportunities to you," King said. "They know you, they trust you, they know you can go find really good quality partners and companies to bring in to solve any problems.
"So, you end up getting a really wide range of stuff to work on, and that's really what's built out our profile in the region, our partner network and why we get to do so many things that … may look random but are all connected through relationships."
Greg Crumpton has seen how King leverages relationships, making sure the partners she works with can trust her and putting people's needs ahead of the numbers.
"I think when we were talking several years ago, understanding how those relationships are to this day still really instrumental in growing Global Venture, those relationships you made, 10 years ago now," Crumpton said.


Latest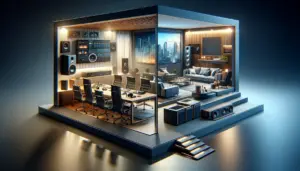 November 27, 2023
In this episode of "Pro AV Today," host Ben Thomas sits down with Audra Kinsley of Sonos Professional to unpack a topic that's causing (sound) waves in the audio industry: the fusion of commercial and residential audio systems. As we navigate through a landscape where consumer and professional audio worlds are increasingly intersecting, Sonos steps […]
Read More