Maintaining Meaningful Relationships through a Screen
Greg Crumpton lives by a simple mantra: Relationships drive business. Each week on Straight Outta Crumpton, Crumpton dives into the lost art of networking and speaks with the biggest influencers in business services to learn how they build, nurture and value their professional relationships.
Among the challenges of the past year, relationship building might be one of the toughest. Adrienne Craighead, the Director of Financial Development for Apparo, talked with Straight Outta Crumpton Host Greg Crumpton and Tyler Kern to talk about keeping people at the heart of business and life.
Apparo helps "… local nonprofits leverage technology and improve business processes to expand their ability to create positive social change in our community."
Craighead talked about building relationships through a screen during COVID. She started the job at Apparo when COVID hit. She still hasn't set foot in the office. This meant she had to be strategic on how to build relationships with the staff. She knew she had to put in quality time to make these relationships.
"I think that relationships should be at the heart of everybody's personal and professional relationships," Craighead said. "That's especially true in nonprofits. Everybody we encounter has a way to impact our world."
One of the ways that can help people connect is through humor. Whitehead and Crumpton agreed that just having a small laugh can help connect and break up a work day's monotony. Whitehead described the levels of humor she uses when meeting people at networking events. She really enjoys when people get the spirit and roll with it and take it to the next level.
What are some of the strategies Whitehead uses to build relationships? To her, there are motivations people to build relationships, and those include: personal, altruistic, or business. Meeting Crumpton, who supports Apparo, was humorous. Though when she went to learn more about him, she found his serious side on his LinkedIn page: "My personal and professional goals are to serve the people I'm working with and working for, and I carry this mantra in my professional life and my home life."
"I always try to look at how I can help people," Crumpton said.


Latest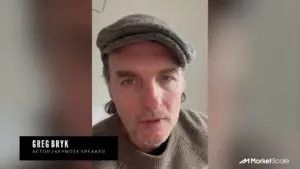 November 30, 2023
In a crowded marketplace, authenticity could be the strongest differentiator in standing out from the competition. Actor and Keynote Speaker Greg Bryk shares his insights on making a mark, on-screen and in the B2B arena. Bryk emphasizes the power of authenticity over pandering to the audience. He explains, "The way to stick out from […]
Read More