Storytelling in Your Marketing to Create a Community with Your Consumers

Entrepreneurship since the pandemic is a rising trend. Leading that charge is women. From starting a business to expanding those opportunities through franchises, women entrepreneurs are blazing a path to success. And how are they doing that? Through storytelling in marketing, to creating a community within their consumer bases.
The canned alcoholic beverages market is growing, projected to reach USD 45.72 billion by 2030. And that puts the market at the center of opportunity for entrepreneurs: Alexis Smith and Nicole Craven, are Co-Founders of Après Hours, a ready-to-drink espresso martini cocktail brand. Smith and Craven created the idea for Après Hours in 2020 when the COVID-19 pandemic struck. And let's face facts; it was a time when everyone needed a boost. And an espresso martini cocktail was more than just a little appealing.
Tuesdays with Morrisey host Adam Morrisey can relate, and he wanted to know more. He chatted with Smith and Craven about their success, their road to creating this new beverage sensation, now available in over forty states and counting, and how storytelling helped grow their brand.
"We thought, surely, there was already an espresso martini in the can at the time," Craven said. "Canned drinks are becoming really popular."
"You had ranch waters; you had everything," Smith added. "There are even hard coffees in the market. We tried a few of them. All of them were filled with high-end dairy and sugar and didn't taste the way an espresso martini should taste. When we were looking through the liquor stores, which were the only things that were open at the time, we realized there were no canned espresso martinis, so that's when we decided to put our heads together and look into it."
Morrisey, Smith, and Craven discuss storytelling…
● Utilizing marketing and storytelling skills to bring this product to market
● The year-and-a-half journey of developing the Après Hours brand
● Building consumer brand equity through social interactions, branding, storytelling, and merchandising
"We wanted everybody to feel like they were a part of the process of creating Après Hours because they really are," Smith said. "Our customers are our bread and butter. We want them to feel like they are part of every step of the way."
About Alexis
Alexis Smith is a Texas-based PR and digital marketing director and Co-Founder of Après Hours. She holds a Mass Communications and Media Studies degree from Texas Tech University.
About Nicole
Nicole Craven is an experienced PR and marketing executive and the Co-Founder of Après Hours. She holds a B.B.A. in Marketing and Merchandising from Oklahoma State University.
Latest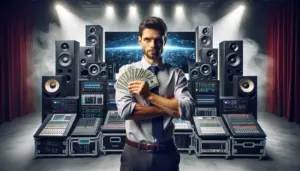 December 8, 2023
Mastering AV sales strategies in a global professional audio-visual (Pro AV) market, poised to reach $79.2 billion by 2028, requires much attention to detail. The surge in demand from corporate, government, and institutional sectors, driven by the need for enhanced productivity and efficient working environments, gives AV sales pros a lot of opportunity. In […]
Read More