Why Even Top Finance Roles Could Benefit from Remote and Freelance Work
Commentary:
A tight labor market, a redefinition of the work day, and a wave of labor flexing its political power in the workplace are all culminating in a hiring dynamic that, for certain industries, is giving candidates more room to make demands. This is even bearing out in the financial sector, where major banks are enticing junior bankers with six figure salaries to keep them in the industry.
Two of the biggest demands across all sectors, including finance roles, are better pay and better hours. Flexible work is a new standard for job-seekers; if you're a hiring company and you're not offering a remote or hybrid work option, some HR consultants claim this could push away up to 70% of qualified candidates. Flexible hours, though, aren't a norm in finance. Is it time for the industry to make a change and rethink how it seeks its professional talent?
Tobias Liebsch, Chief Commercial & Community Office at Fintalent.io, sees the financial sector as ripe with opportunity for workflow disruption, operational cost reductions, and new standards for high-end careers. Especially on the M&A side of the industry, projects are bloated with cost while professionals lack any flexibility in consulting hours. We spoke with Tobias to get his perspectives on innovations to finance hiring, and why a shift toward freelancing and remote work for top finance roles is overdue.
Abridged Thoughts:
Historically, the only option for M&A departments, apart from their internal resources, used to be a big four consultancy firms or local consultancies. So they need to hire those consultancies, often with a pretty hefty price tag, and then get sold a mixture of junior and senior consultants to pull off the projects. Over the last couple of years, of course, different freelance platforms have also established different opportunity for these kind of companies to enhance their own capabilities. It may be with extra specialists in certain industries, it might be with certain seniority. That's the big two trends that we see. What we've also noticed is because we've actually we have a couple of M&A freelancers on our team. In fact, our founder used to freelance himself after a career. And what we've seen is that there is a big gap in between those two options because oftentimes corporate development teams, they are just looking for one specific specialist or specific role to fill. And then it's just not really feasible to hire big consultancy.
More Like This Story:
Latest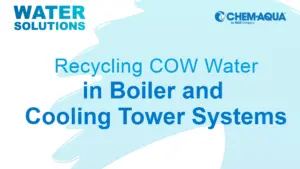 December 7, 2023
For the latest episode of ChemAqua's Water Solutions podcast, the focus was on an innovative approach to water conservation in the dairy industry. The show examined the potential of reusing Condensate of Whey (COW) water, a byproduct of dairy processing, and highlighted some of its economic and environmental benefits. Hosted by Dani Waddell, the informative […]
Read More