Building a Successful Future of Work in This Disrupted World
Since the COVID-19 pandemic, there has been a huge shift in how we approach our work lives, so how do we take advantage of this shift to build a successful future of work that fits both employers and employees? Different opinions are flying around about what works best regarding issues such as burnout, how to increase productivity while minimizing distractions working from home, how to feel more connected, and finding meaning by not allowing work to define our sense of purpose.
On this episode of DisruptED, host Ron J Stefanski speaks with Karen Mangia, a tech warrior and the current VP of Market Insight for Salesforce, about success from anywhere as it relates to the shift in our relationship with work and how work fits into our lives.
"The challenge of success from anywhere is that it draws a line in the sand that paints this polar opposite of winners and losers, employer versus employee, work well and live well; these things do not have to be mutually exclusive and the organizations winning at this new world of work are all asking the same question of 'what matters? And from this question, we have the opportunity to create choices," said Mangia.
Ron and Karen discussed the future of work…
● Navigating the world of work: what does the future of work look like?
● Resetting the expectations of our employer
● How to have more GSD women in higher positions in tech
"Our expectation is moving from control to a community—a place of shared identity—like a kaleidoscope identity where brilliant individual pieces change their patterns with a little bit of influence," said Mangia. "Great communities are based primarily on shared values," she said further.
Karen Mangia received her Bachelor's degree in International Business as well as her Master's in Information and Communication Sciences from Ball State University.  In her career, Mangia is not only a force at Salesforce, but she is also a Wall Street Journal best-selling author, keynote speaker, executive coach and that is only a short list of the many roles she holds in her industry.
Latest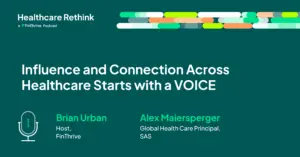 September 29, 2023
In the latest episode of the Healthcare Rethink podcast, presented by FinThrive, host Brian Urban sits down with Alex Maiersperger, the Global Principal Healthcare at SAS. Their conversation charts the role voice plays in influencing and connecting the healthcare industry. Maiersperger, who co-founded the Advancement League, shares his journey from being a healthcare optimist to […]
Read More