CAST 2022: How Science Teachers Are Rethinking STEM Education
Less than a week ago, teachers, science advocates, and top educators across the STEM space gathered at the Hilton Anatole in Dallas, TX, for CAST 2022 to reflect on another layered school year defined by multiple forces. On the challenging side of things, teachers faced pandemic woes, an influx of process and tool changes that created budget waste, inhibitors to changing social and geopolitical dynamics, and strain on education professionals' day to day. On the optimistic side of things, teachers saw new innovative technologies hit the classroom, mass federal funding toward pandemic recovery and new projects, and a reinvigorated student body ready to make the most of what may have been taken for granted: an in-person school experience.
CAST 2022 was a chance for science education professionals to have needed discussions on the challenges and opportunities that still await teachers in the current education climate. Gearing up for the second half of the 2022-2023 school year, educators knocked heads on how they can revitalize curriculum, use of tools, relationships with students and parents, and collaborative approaches with colleagues to make needed change across STEM fields.
MarketScale, in collaboration with Summit K12, hit the show floor to ask educators and science lovers: What are the most important conversations that STEM educators needs to be having at the show this year, and why?
Temple Grandin on the Mosaic of Learning Methods
All people learn differently, and tailoring education to those realities can have drastic impacts on how students are supported through their educational journey. Especially in such a hands-on field as the sciences, how can these subtle differences in how people engage with knowledge and retain information be baked into  curriculum? Mary Temple Grandin, renowned American scientist, academic, and animal behaviorist, shared her thoughts at CAST 2022 on why educators need to be putting the nuances of the mind front and center.
"I think we need to be aware that different kinds of thinking exist. I am an object visualizer. Everything I think about's a picture. It makes me good at animals and mechanical things. Another kind of person's good at mathematical and pattern thinking…and then some people are verbal thinking. Other people are mixtures of different kinds of thinking. And we need to be aware of that because we need these people working together cuz they have complimentary skills."
Dr. Stephanie Boyce on Student's Cultural Capital in Science Education
Renowned for its variety and quality of outstanding educational workshops and featured sessions, CAST 22 brought together a range of educational thought leaders to challenge each other on the most impactful ways to rethink typical notions of how to approach science education. Edupreneur and author of "The FRESH Classroom: Why Culturally Relevant Education Can't Wait!" Dr. Stephanie Boyce, is one of those voices in science education that's normalizing the importance of curriculum that accounts for "racial justice and equity for historically marginalized people" in all educational spaces, including STEM fields. At CAST 2022, Dr. Boyce highlighted the importance of developing a more personalized, socially- and culturally-conscious educational experience for students of all backgrounds.
"I'd say in my research, I learned early on that a lot of social studies and ELAR teachers felt like becoming more culturally responsive in their teaching was necessary. Whereas a lot of method science teachers sometimes felt like their content was more context neutral. So I love the conversation shifting towards considering what the cultural capital of your students is when they come into your classrooms. Understanding their background knowledge in deep and meaningful ways, valuing their authenticity, and then finding ways to be the bridge build between the content that you have to teach your science content and the students that you actually teach in front of you, and really finding ways to make the strong connect.

Between those two. I think that's a great conversation to be having about how do we make our content standards more deeply meaningful and relevant to students so they can in turn start to feel and understand themselves to be scientists already in their lived experiences."
National Geographic Explorer on the Past and Future for Science Educators
Andrés Ruzo, a geoscientist, conservationist, author, science communicator, and educator, has spent his career traveling the world and supporting education initiatives in Nicaragua, Costa Rica, and Peru. His work has been featured in National Geographic, and has taken him all the way to the Amazon to study the intricacies of geological phenomenon and their relation to indigenous culture and spirituality. His most detailed endeavor of which he's founder and director, the Boiling River Project, has led to turning an infamous geological wonder into a "mecca of scientific investigation…[in] various fields of geoscience, botany, biology, microbiology, anthropology, linguistics, ethno-history, shamanism, conservation economics, wildlife trafficking, and sustainable tourism." At CAST 2022, he shared the two most important conversations he believed should be happening at this year's show.
"Number one, just acknowledging what we've all been through collectively as educators, as professionals, as parents, as family members in the past two and a half years. That's been really hard. Don't bottle those emotions up. Let's find our strength in our communities. That one is looking to the past.

The second one is looking to the future. And for that, what can you do? Now, this is for conservation. This is for the planet. We have all the science to know exactly what's going on. What can you do? Now you do not have to wait for the permission of a conference of parties, or a politician winning whatever. You can do something now in your backyard. In your apartment patio on your rooftop, what can you do now to change the world in your local space? That's my big challenge to everyone."
CAST Co-Sponsor Summit K12 Weighs In
CAST 2022 was sponsored this year by a number of big names in the education and edtech space, including Discovery Education, Houghton Mifflin Harcourt, EduSmart, and Summit K12. Summit offers students and teachers an online, standards-based supplemental curriculum aimed to "close gaps and ensure growth for all students," with specific solutions around science mastery. Edna Carter, Vice President of Sales & Customer Success, and Mary Alonso, Senior Account Executive, gave their thoughts on what they see as important areas of focus for professionals at the show.
"So what are some important discussions that need to happen at CAST this year? Some of those important discussions are really in regard to creating lessons that visually engage the students so that they are connected. So what new measures and strategies do we need to incorporate so we can move forward and allow the students to be successful? How can we create that interest so we can foster students that are interested in science?" — Mary Alonso

"We have to evaluate and understand scientific theories and evidence that is higher rigor and incorporate higher learning strategies within protocols for students to be engaged. So what new measures and strategies do we need to incorporate? What can we do to move forward and allow the students to be successful, but at the same time create that interest in science? How are we gonna engage them to want to learn and be interested?" — Edna Carter
Tom McFadden on Content, Community, and Collaboration
Tom McFadden is a veteran of the educational content science community. Since his smash hit "Oxidate It Or Love It," which has amassed over 619,000 views on YouTube, McFadden has built an educational content empire, culminating in "Science With Tom" LLC, an organization aimed at creating "videos, lessons, and tools that help every teacher unleash the creative genius of their rockstar students," as well as more recently Rhymewit, an edtech tool specifically for helping students and teachers create "standards-aligned" music videos for the classroom. McFadden spoke with MarketScale to briefly talk about ways the science classroom can facilitate community through connection.
"My conversations with my colleagues and here all revolve around the humanity of our students. It's been a rough few years with COVID. Now it's more important than ever that schools be a place where students can feel human and can feel a connection to other people. How does your science classroom facilitate that sense of belonging between students and teachers? My first thought is science. It's a great field for facilitating that, whether it's through the hands-on learning that people are doing, or through relationship building and collaboration. So that's what I'm talking about here."
Arlevia Davis on Keeping Student Equity as a Top Priority
Wrapping up another successful CAST 22, educators and science advocates gathered to discuss innovation and new strategies for the classroom. United by the common goal to inspire students to discover the world through science, Science Specialist Arlevia Davis from Summit High School highlighted the through-line that all educators expressed at the conference this year: student equity is the most critical metric of success as educators revitalize their science education best practices, tools, and curriculum.
"I think the most important conversations that should be happening here at CAST is the fact that we need to reach all learners, all levels, right where they are. We have a lot of students, a lot of different needs. All of them have greatness in them. You just need to figure out how to reach it, and how to help them achieve their goals."
Latest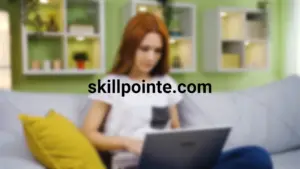 November 30, 2023
Adopting an entrepreneurial mindset is increasingly essential in today's diverse professional world. This approach, emphasizing resilience and innovation, is applicable in various careers, encouraging individuals to see opportunities in challenges and to think beyond conventional methods. SkillPointe recognizes the importance of aligning this entrepreneurial spirit with career aspirations. The organization assists individuals in transforming […]
Read More