Creating an Environment to Learn Fearlessly
"Getting Shit Done" is the outstanding theme highlighted in DisruptED. Hosts Ron Stefanski and Dr. Ceasar Mickens  sit down with two extraordinary women, Kristin Harrington and Elizabeth Hofreuter, both with high GSD index scores to talk about their impact on fearless learning in the education space.
Hofreuter originally began her journey in the education space when her dyslexic daughter struggled to adapt to classroom learning. Now, as the Head of the Wheeling Country Day School, Hofreuter noted the importance of providing a flexible learning opportunity to all.
"On a national level 20% of children have…dyslexia," said Hofreuter. Combined with the widespread learning loss due to covid, kids need structured literacy to catch up.
After a phone call sparked a shared passion between Hofreuter and Harrington, a founding partner for a nonprofit leadership consultancy, they teamed up to create a program aimed at building fearless learning.
"So, we used the pandemic as an acclerant. We learned over the pandemic that our kids who needed tutoring could be tutored remotely and, out of necessity…So we took our program online and once we were online we realized it could go anywhere," said Hofreuter.
To branch out to kids who need to the most help, Hofreuter and Harrington work through out of school network programs, such as the Boys and Girls Club, which provides mentors for each kid and help them learn during their "power hour."
Hofreuter explained, "So, we're providing life changing literacy work within a life-changing program."
Hofreuter and Harrington's program teaches to the edges, so that no one is excluded. Their goal is to help kids learn that school shouldn't be about survival – it should be about being fearless. For many kids with learning challenges, learning how to be fearless in education will transform their lives.
"We are happy to talk to anyone who wants to work collaboratively on this effort to bring fearless learning to students across Appalachia," said Harrington, noting that their efforts don't have to just be about dyslexic students, but rather can be applicable to all, "…Every intervention we are offering is just as applicable to students who are experiencing learning loss or interrupted learning as a result of the pandemic…Students are just struggling coming out of the pandemic."
Latest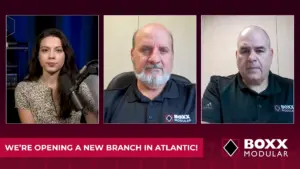 December 4, 2023
In an era where construction innovation is reshaping the industry, modular construction's growth continues to rise. In this episode of Built Modular, Boxx Modular's strategic expansion into Moncton, Atlantic Canada takes center stage. Host Gabrielle Bejarano welcomes Charles Landry and Ray Girouard to explore the implications of this venture. Bejarano, Landry, and Girouard discuss […]
Read More