Engineering a More Powerful Remote Learning Experience
Panasonic National Sales Manager Darryl Krall has more than two and a half decades in audiovisual technology and IT, with much of that career being tied to education – meaning he's extremely qualified to explore how the pandemic and more have shifted the landscape of education and edtech.
Prior to the spread of the novel coronavirus and the ensuing COVID-19 pandemic, Panasonic was already working with a forward-looking attitude centered on technology, online education and more.
The company has been in the classroom and on campus for over 40 years, and it's worked to evolve alongside the shifting industry. That translated to working on lecture capture, support for professors in reaching remote and online students, and providing holistic, functional classrooms that empower learning not only on campus, but across distance.
In the wake of the pandemic and the accelerated digital transformation it caused, Panasonic has relied on its relationships to understand what the main concerns were in education and how to address them, particularly in terms of student engagement.
Now, with the pandemic continuing to drag on and the future of learning still taking shape, Krall said the focus has to be on the delivery system for millennial and Gen X learners that helps them succeed – from the first step of enabling learning through Zoom, Teams and other tools, but also in terms of professional development tools that help educators retool content for better results online.

Latest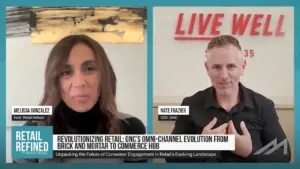 November 29, 2023
The transformation from a traditional brick-and-mortar store to an integrated commerce hub is crucial in the fast-evolving retail landscape. GNC's omni-channel evolution epitomizes this shift, blending in-person and digital experiences to meet the contemporary consumer's demands. But what does this mean for the future of retail? "Retail Refined," hosted by Melissa Gonzalez, welcomes Nate […]
Read More