How Institutions are Embracing the Adult Learning Population
The world of higher education has always been a disruptor of sorts. And when it comes to adult learning in higher education, it's a situation that calls for even more disruption, as the requirements are different. But apparently, they are also the key to boosting enrollment. Many institutions have considered older populations returning to school, along with the unique stakes and strategies it takes to support their educational needs.
What have some institutions done to assist adult learners?
For the latest DisruptED podcast episode, host Ron J. Stefanski talked with Jill Buban, the Vice President and General Manager of EdAssist Solutions, about adult learning and education, talent wars, initiatives to boost programs for adult learners, and Buban's own work in education.
On the show, Stefanski and Buban further discussed …
The growth of the education technology space
Reasons for the rise in adult learners
How institutions are supporting educational opportunities for adult learners
"The thought that adult learners and really focusing on the theory behind adult learning as they come with all of this experience. They're at different developmental—both socially, emotionally, physically—in their lives to be able to do the work, to think about and apply their experiences to their degree. So, it's been wonderful for me to see so many of these institutions…get the kind of props and be highlighted for the work they've been doing for decades to really focus on adults, because they know that adult developmental and how adults learn and how they bring that experience…Prior to this kind of resurgence and renaissance around that, the working learner and adult learner, I think many institutions were trying to apply traditional models to working with adults, and it just doesn't work as well," said Buban.
Jill Buban is Vice President and General Manager of EdAssist Solutions, and has been in that role for almost two years. Prior to that she was the Vice President of Digital Strategy and Online Education at Fairfield University. Buban has decades of experience in higher education and is a Ph. D. in adult learning.
Latest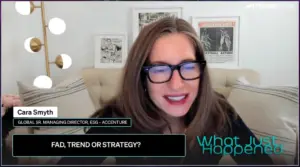 November 30, 2023
The world is in an era where sustainability and responsible retail business practices are increasingly crucial. For the latest episode of "What Just Happened," host Christine Russo further explored the hows and whys of this pressing issue by interviewing Cara Smyth, Global Senior Managing Director for ESG and Responsible Retail at Accenture, and Chair […]
Read More