How Sales Business Founders Can Boost Their Numbers
A sales business can be a rewarding experience despite its many challenges. One of the many pros and cons that sales professionals face is finding the right team members that successful strategy relies on.
So, what should business leaders implement to set their teams up for success?
On the second episode of DisruptEd with guest William Gilchrist, host Ron Stefanski continues his interview with the founder of Konsyg. Gilchrist illustrates his journey to build Konsyg and his 15 years within the sales industry. Stefanski unearths crucial tips for entrepreneurs they can use to develop their sales team strategy.
In 2017, Gilchrist founded Konsyg in Singapore in order to provide on-demand services for tech companies who needed to boost B2B sales. Gilchrist says that "The Godfather" inspired the company's name. In the movie, the consigliere is an advisor that guides the notorious crime family. Despite not being an actual mafioso, the consigliere's advice is taken very seriously. For Gilchrist, he decided that this character's status is something he wanted to adopt in working with his clients.
"[The consigliere] was the professional representative of that family and the only person who could challenge and disagree with the family's leader because he's a professional. I said, ' this is the kind of relationship I want with my clients'. Not that I want to disagree and challenge, but I want to be able to advise [them] to take action and advise without it being an ego issue," said Gilchrist.
Join the second part of Stefanski and Gilchrist's conversation where they discuss:
Challenges sales business founders encounter
How to set realistic expectations to manage and sustain business strategies
Ways that founders can shift their approach to build a sales team
Gilchrist offers advice to entrepreneurs like: "[If you've,] started a business and looking to build a sales team, [founders should] go sell [the product] themselves for about six months. [Founders should] elect yourself as one of the people who's selling [the business]. Then, you will get a much clearer view of the expectations that you're putting on your new sales hires".
William Gilchrist is the founder of Konsyg. Before creating his own business, he worked at Google and several startups in Singapore. He is an alumnus of Bowdoin College, where he received his B.A. in International Relations. Afterward, he attended Peking University and Cornell University to study Mandarin Chinese.
Latest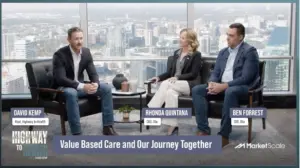 December 7, 2023
As of recent times, the healthcare industry has been progressively shifting towards value-based care, a model that emphasizes patient outcomes over the quantity of services delivered. This transition represents a significant shift that promises to enhance patient experiences and outcomes while controlling healthcare costs. With a growing emphasis on this approach, especially over the […]
Read More