Keeping Our Mental Health in Check to Improve Our Everyday Work and Learning

One-third of people report feeling extreme stress, while 77 percent report their stress impacts their physical health, 73 percent report it impacts their mental health, and almost 50 percent state they experience difficulty sleeping due to stress. Considering that stress can have other detrimental impacts such as: causing impaired performance, mental health issues, high blood pressure, strained relationships, and more, addressing this in today's age is critical to mitigating these impacts.
How can we manage stress and keep our mental health in check in a world where we are emerging from a pandemic, dealing with international conflict, experiencing inflation, and much more?
On today's episode of DisruptED, host Ron J. Stefanski spoke with Joy Langley, a Stress Management Coach and Author, to discuss Dr. Langley's take on counseling and stress management in a disrupted world where stress runs rampant.
Adrenaline is an essential hormone. It promotes proper cardiovascular function, helps utilize carbs and fats, assists in fat distribution, and triggers the body's fight-or-flight response to stress. Adrenaline was meant to help us survive when faced with crises, but now it is being triggered for less critical situations.
Langley explained, "You can't ignore the benefits of adrenaline. What's happening for us now is that it's being triggered for very petty reasons. You know, I've lost my phone, or I had a notification on my computer… being stuck in a traffic jam, having to see your boss… these things are not the end of the world."
Stefanski and Langley also discussed…
● What brought Dr. Joy Langley into the world of counseling
● Dr. Langley's business model and the population of patients she is currently seeing
● How our bodies respond to stress and what we can do to reframe our situation to manage our stress and keep our mental health in check
Langley described how the adrenaline response to stress is normal but needs to be reframed in the context of what is at hand. "You have the power to reset that and look at this light differently. Don't be annoyed at the body responding that way—you don't ever want it to lose its response because, really, we are almost attuned to being quite pessimistic… The body is meant to survive and keep the human race going. We're not meant to be wiping ourselves out," she stated.
Langley added, "So, if we didn't have this fear response, Ron, me, and you might be on a beach, but we're on the top of a cliff, and the water is lovely and blue. We might both say, 'Let's just jump in now!' I would like something in me to kick in to say, 'Hang on, do you think there are any rocks below?' Or 'Hang on, do you think there are any sharks in the water?'"
Joy Langley is a Stress Management Coach and Author. After her own personal experiences, Langley decided to pursue mental health roles such as college counseling and stress and anxiety coaching for a variety of patients. She attended Kingston University, where she graduated with a B.S. in Chemistry and Business.
Latest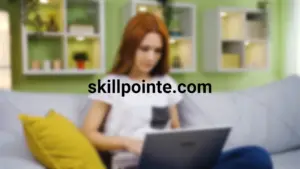 November 30, 2023
Adopting an entrepreneurial mindset is increasingly essential in today's diverse professional world. This approach, emphasizing resilience and innovation, is applicable in various careers, encouraging individuals to see opportunities in challenges and to think beyond conventional methods. SkillPointe recognizes the importance of aligning this entrepreneurial spirit with career aspirations. The organization assists individuals in transforming […]
Read More