The Remote Culture: Balancing Technology and Humanity
The shift to remote work is a familiar topic these days, but it didn't just start when the pandemic hit. Thomas Waite, CEO of K16 Solutions, an education technology firm, shared his thoughts about remote work's past, present, and future.
"We've felt little impact, as we've been a remote team for years. I've had the chance to talk to other businesses about the change. It's been positive for them. It saves money and time. Employees are happier and more productive," Waite said.
It's true that remote workers are often more productive. According to a recent study, remote employees work 1.4 days per month than their office-based peers. But why are they more productive.
Dr. Waite believes this has a lot to with removing some of the barriers of in-office politics. "With remote work, you either produce something or you don't," he shared.
The key to productivity isn't just technology that bridges the transactional distance. The culture of the company matters, and that doesn't change in a remote dynamic.
However, many employers have concerns about being able to manage remote employees or losing interpersonal connections. Waite stated these concerns go back to ensuring you don't forget the humanity piece of the equation. "I know my remote team better than those I'm in the office with regularly. It's because I'm on the phone with them as they begin their day. It adds another layer of intimacy you don't get in the office."
Waite also credits the "no ego" rule in their culture. "I care about you and what you're producing. We don't have to pretend. Technology won't magically change things. Culture matters and should blend humanity and technology," he commented.
Catch more of Waite's insights on the remote work culture by watching the video.
Follow us on social media for the latest updates in B2B!
Twitter – @MarketScale
Facebook – facebook.com/marketscale
LinkedIn – linkedin.com/company/marketscale
Latest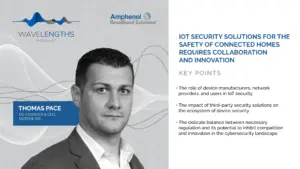 November 28, 2023
Since the introduction of smart devices, the world has increasingly become dominated by interconnected devices but IoT securitydemands are also growing. The "connected home" has shifted from what was once a futuristic concept to reality. With the global smart home market projected to reach $135.3 billion by 2025, the conversation around the security of these […]
Read More