From Laborious to Streamlined: Pearson's Packaging Automation Solutions Can Transform Food & Beverage Production
Packaging automation solutions are swiftly revolutionizing the production landscape, transforming it from a laborious endeavor fraught with inefficiencies to a streamlined, cost-effective process. Indeed, a walk through the contemporary production environment reveals a tale of missed opportunities, where work overflows and hands are scarce, both in number and the requisite skill.
But in the face of this daunting narrative, the way forward emerges automation. Navigating the complexities of this transition necessitates a trusted partner like Pearson Packing Systems. This OEM offers solutions not only in terms of state-of-the-art equipment but also through a comprehensive service and support ecosystem, all aimed to ensure a risk-free transition to automation.
Through efficient packaging automation solutions, Pearson underscores that automation should simplify tasks, not complicate them. In this episode, we take a look at how Pearson can support the efficiency and productivity needs of food and beverage manufacturers.
Latest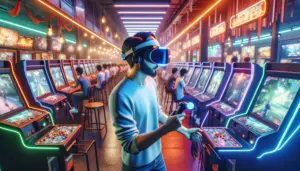 December 4, 2023
In this Pro AV Today soundbite from Dan O'Brien of HTC VIVE, the conversation centered on the significant role of Virtual Reality (VR) and Augmented Reality (AR) in attractions and enterprise applications. O'Brien highlighted the critical need for durable hardware design, tailored to withstand extensive use in location-based entertainment (LBE) operations. Unlike consumer-grade VR headsets, […]
Read More