Improving the Homeless Housing Crisis in Los Angeles Gets a Much-Deserved Lift at 6th Street Place.
Amid the homeless housing crisis in Los Angeles, a glimmer of hope appears in the form of modular housing projects designed to provide much-needed shelters for the homeless community. LA is home to over 40,000 homeless individuals, a number that's seen a sharp increase of 16% over the past year. Yet, innovative design principles and strategies are making a tangible impact on this pressing issue, offering a timely and increasingly successful solution to homelessness.
What, then, are the design principles and strategies contributing to the success of these modular housing projects? And how might these principles inform similar projects in the future?
Welcome to Mainstream Modular by Guerdon, a podcast that dives into the heart of modular housing's potential to address homelessness. Host Gabrielle Bejarano brought on Frank Pasker, Principal and Technical Director of the LA Division at TCA Architects, to discuss the success story of a homeless housing project at 6th Street Place in Los Angeles. They discussed the design principles behind this and other successful projects, providing insights into how architects tackle homelessness with innovative and empathetic design.
In this episode, Gabrielle and Frank explore:
The considerations in designing housing for the homeless community, with emphasis on community, durability, and accessibility
The role of community engagement in designing housing projects and maintaining strong relationships with local communities
Addressing the unique challenges faced in designing modular homeless housing, including the vital considerations of safety and security
Frank Pasker is a seasoned architect who has spent his career in Los Angeles since 2001, focusing on affordable housing projects. His work spans various projects, from affordable to market-rate high-rise buildings. His dedication and proficiency in his field have made him a leading figure in addressing the housing crisis, particularly in homeless housing. With multiple projects under his belt, Pasker brings a wealth of knowledge and experience, making him a leading voice in this pivotal conversation on homelessness and housing design.
Latest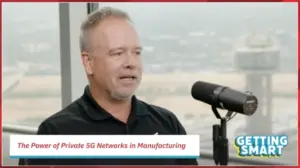 September 25, 2023
The Convergence of 5G and Automation in Manufacturing: A New Industrial Revolution The manufacturing industry stands at an inflection point. Advances in 5G technology and automation are coming together to transform the way products are made, and the role that humans and machines play in this process. Per Treven, Director of Business Development at Ericsson, […]
Read More