Phoenix Contact Brings a Cross-Functional Disciplined Approach to IoT Disruption
One area that continues to redefine possibilities in technology is IoT disruption. With an estimated 30 billion IoT devices expected to be in use by 2025, the stakes are high, and the potential for transformation is immense. However, with this surge in IoT adoption, there's a growing concern about the successful implementation of these technologies, with studies suggesting that up to 75% of IoT projects fail. So, how can businesses navigate this complex terrain and harness the power of IoT effectively? Who are the disrupters willing to go beyond the norm?
Phoenix Contact, an electrical engineering and automation solutions provider, is one company leading in IoT disruption. Phoenix Contact received the 2023 Governor's Award for Environmental Excellence (GAEE) for its innovative rooftop solar project. The award, presented by the Pennsylvania Department of Environmental Protection, recognizes the company's 961-kilowatt solar array that caters to about 30% of the energy needs at its U.S. headquarters. And it is that blend of providing solutions with sustainability in mind that disrupts the industry and creates positive new trends.
In the latest episode of DisruptED, host Ron J Stefanski engaged with Dave Eifert, Senior Business Development Manager at Phoenix Contact USA, to talk about the challenges and opportunities inherent in the world of IoT, with a focus on the industrial application of these technologies.
Key points from the episode include:
The importance of starting small with IoT projects, focusing on well-defined processes or issues, and using IoT as a toolbox to solve specific business problems
The potential of IoT data to provide unexpected insights and benefits when viewed from different perspectives, highlighting the importance of data sharing
The critical role of sustainability in the context of IoT, with a focus on the need for cross-functional, open, shared data sources
Dave Eifert, an engineering and management graduate, has spent his entire career in tech. Over the years, he has worked in various roles at Phoenix Contact, including product sales engineer and automation sales, before transitioning into his current role as the business development manager for IIoT. With a keen interest in high-tech, cutting-edge technologies, Eifert brings knowledge and experience to the dynamic world of IoT.
Latest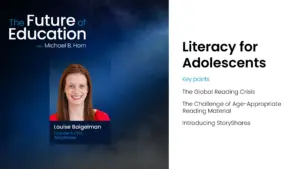 September 25, 2023
Literacy for adolescents in the United States needs to play catch up. Can online education help fill the gap? In recent years, the digital age has significantly shifted how education is delivered, especially in literacy. With the rise of online education, there's an increasing need to address the literacy crisis affecting adolescents worldwide. A […]
Read More