The Future of Advanced Manufacturing is Here: Part 1
Original Post Date: Aug. 25, 2022
Content Updated: May 16, 2023
When the US Centre for Advanced Manufacturing launched in June 2022, Cynthia Hutchison, the Head of the Centre, met up with me and Kevin Czinger, CEO of Divergent3D & Czinger Vehicles.
Kevin Czinger is simply a phenomenon.  He comes from a proud family of mechanics and drag racers in Cleveland who influenced his interests at an early age and encouraged him to become a voracious reader. 
Kevin burst onto the scene from there looking toward the future of advanced manufacturing.  A lifelong learner at Yale, he received undergraduate and advanced degrees in biophysics, biochemistry, and electrical engineering at Yale and Arizona State.  Afterward, Czinger cofounded a successful EV battery manufacturing company in California. 
"When first researching how to transform an internal combustion engine vehicle into an EV, Czinger realized, "I spent more on the conversion of that car than all the capital that we spent on technology development for that car." 
Although uni-body construction systems were automated, they were also analog and not optimized. Czinger points out, "It's still the architecture of a fundamental analog system and here we have an industry being digitized everywhere except at its core."
Czinger knew he needed to figure out digital assembly to create an entirely new factory model and digital manufacturing system. So he did! 
Inspired by Kelly Johnson's pioneering work as the first team leader at Lockheed Skunkworks, Czinger shares his own gripping story. A blank slate, seven years, over 500+ distinct patents, and over $400M in invested capital, his 3D printed high performance C21 HyperCar just beat the McLaren P1 at the Laguna Seca Roadway by 6 seconds/ 
As Hutchison insightfully suggests during their multi-episode podcast, the two common ways people respond to this kind of massive disruption are through the lens of fear or opportunity. Czinger is clearly one of the latter– a generational visionary who is leveraging his voracious American-born competitiveness to bring innovative technologies to scale. And Hutchison is equally passionate about bringing thought leaders together as she launches programming for the Centre.  
The US Centre for Advanced Manufacturing is a proud sponsor of DisruptED Advanced Manufacturing.  As Hutchison shares, "We want to shine a light on advanced manufacturing here in the US."  It is electrifying listening to these two firsthand as Kevin's digital manufacturing system launches, as the world watches and takes notice of the disruption ahead for the future of advanced manufacturing. 
More In This Series:
Latest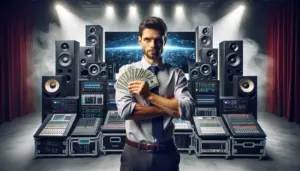 December 8, 2023
Mastering AV sales strategies in a global professional audio-visual (Pro AV) market, poised to reach $79.2 billion by 2028, requires much attention to detail. The surge in demand from corporate, government, and institutional sectors, driven by the need for enhanced productivity and efficient working environments, gives AV sales pros a lot of opportunity. In […]
Read More