Can the CPG Industry Balance D2C Strategies with a Positive In-Store Experience?
Key Points:
Food and beverage brands used the pandemic to test D2C initiatives.
CPG, food, and beverage companies need to test out what will work both online and offline because more consumers are using e-commerce.
C-stores and grocery stores will remain dominant channels to reach customers.
Commentary:
During the COVID-19 pandemic, companies in the food and beverage industry have had to find new ways to adapt to reach consumers. One strategy that has proven useful for retailers with a strong grasp of their audience is testing out new products with temporary D2C initiatives. MarketScale spoke with Dr. P.K. Kannan, Dean's Chair in Marketing Science at the University of Maryland Robert H. Smith School of Business, about how CPG brands can utilize D2C as part of a larger e-commerce strategy while still prioritizing the in-store environment.
Abridged Thoughts:
Many food and beverage brands like Frito-Lay and PepsiCo used the coronavirus pandemic shock to test their DTC initiatives. Many of the consumers who are sitting at home, they were not able to go to the grocery stores as often as they would like to, and this seemed like a very good opportunity to test out direct to consumer initiatives. Frito-lay and Pepsi launched two websites, one is snacks, where they carry different kinds of snacks and chips, et cetera. And the other one is pantry shop, where they actually carry bundles of snacks and beverages and tested out different concepts of bundles and snacks.
Frito-lay was able to carry some of the snacks, which were niche snacks, which were low share brands so that they can test out and see the receptivity of consumers. For these brands and that pantry shop, they did the same thing with the bundles. Now such initiatives are essential for every CPG and food and beverage company because consumer shopping habits are changing fast. And as the coronavirus shock indicated, people have taken on to online channel in a big way. And so all these companies need to test out what will work online and what will work offline in the retail stores. And for consumers, this is a good way to figure out what are the products that they like, and they can actually search online in the DTC at the DTC websites and find out more about some of the brands which are not easily available at the stores and for stores and for retail stores. 
Latest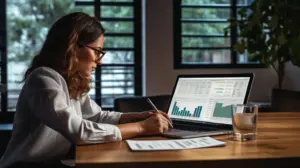 October 4, 2023
The intersection between security and financial acumen often gets overshadowed in a constantly changing economic landscape. While security is essential for safeguarding assets and ensuring continuity, its perceived monetary value is mired in misconceptions affecting company profitability. For many, security is viewed primarily as an expense rather than a potential cost-saver. However, understanding […]
Read More