Deliveroo Expands its Supply Chain Footprint in a Crowded Marketplace
British delivery app Deliveroo plans to launch a massive IPO on the London Stock Exchange. It expects a $12 billion valuation, but things haven't been all rosy for the company. Before Covid, the company nearly tanked. However, with a surge in home deliveries during the pandemic, its business soared. As the company plans for the future, what sets it apart from its American counterparts? Will its business model be successful?
Daniel Litwin, Voice of B2B, talked with GigSmart CFO Vince Catino on MarketScale TV to determine whether Deliveroo's platform has wheels. GigSmart is a staffing solutions company for multiple business use cases, including on-demand hourly gig shifts, part-time work, full-time work, and managed business services.
Deliveroo's business platform is similar to other third-party delivery apps in that it relies on gig workers who deliver food from local restaurants. Without the app or drivers, the restaurants couldn't deliver the food on their own.
"I share the optimism, certainly," Catino said. He elaborated he believes that work will continue to be there for gig workers, and companies will continue to use this labor force. However, he isn't sure if the demand for food delivery will be high after the pandemic.
"If they're successful in engaging those different skills, becoming more of a horizontal platform, where it's not just delivering the food. It's actually engaging with the ghost kitchens, or grocers, to have different offerings … I think there are some significant opportunities there."
Latest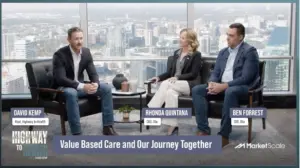 December 7, 2023
As of recent times, the healthcare industry has been progressively shifting towards value-based care, a model that emphasizes patient outcomes over the quantity of services delivered. This transition represents a significant shift that promises to enhance patient experiences and outcomes while controlling healthcare costs. With a growing emphasis on this approach, especially over the […]
Read More