Do Debt-Free Degree Programs Work For Fast Food Employees?
Chipotle dropped the news it will allow their employees to go to college tuition-free if they major in Agriculture, Culinary, or Hospitality degree programs. They are not the first QSR to launch a program like this: McDonald's and Taco Bell also offer some form of tuition assistance.
When given a critical analysis, do programs like this work as intended? Are employees given the tools to reskill and advance in a career path? And what does a degree program mean for workers through the lens of labor law?
Voice of B2B, Daniel Litwin, talked on Marketscale TV with Prof. Nicole Civita, JD, LL.M., Vice President for Strategic Initiatives at Sterling College about these types of initiatives and whether or not they provide value for employees. Sterling College is a private college in Craftsbury, Vermont, part of the Work Colleges Consortium, with a curriculum focused on ecological thinking and action through majors in Ecology, Environmental Humanities, Outdoor Education, Sustainable Agriculture, and Sustainable Food Systems.
"It will be interesting to see how this plays out in terms of return on investment for Chipotle," Civita, a Food Systems Transformation Agent, Ethicist & Educator, said. "But, I think Chipotle sets itself apart from other QSR restaurants." She elaborated the company has a different value system, as well as business model, than many fast-food restaurants. That, coupled with a wide array of employee benefits, makes for a unique dynamic between it and its workers in the industry.
On the other hand, similar to many of its counterparts in the industry, Chipotle also has a history of labor violations. In 2020, Chipotle was fined over $1.4 million for accusations of violating child labor laws in Massachusetts, with more than 13,000 violations. Civita uses this and other past labor violations as framing to expand on how, with this program, Chipotle could be both working to clean up its image as well as create value for workers through lower barriers to access higher education.
Follow us on social media for the latest updates in B2B!
Twitter – @MarketScale
Facebook – facebook.com/marketscale
LinkedIn – linkedin.com/company/marketscale
Latest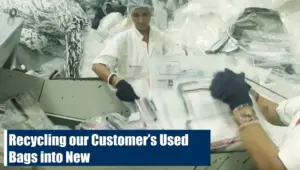 December 6, 2023
This video focuses on EcoLOK4, a groundbreaking product by CONTROLTEK that exemplifies innovation in sustainability. It highlights the process of transforming landfill waste into new deposit bags, with 90% of each bag's material being repurposed trash. This initiative not only reduces waste but also closes the sustainability loop, demonstrating CONTROLTEK's commitment to environmentally friendly […]
Read More