What is the Economic Forecast for the Craft Beer World?
As states are planning their re-openings and Americans become hopeful that  self-isolation could come to an end in the month of May, Voice of B2B Daniel Litwin spoke with Brewers Association Chief Economist Bart Watson to discuss how re-opening procedures might look for the beverage industry.
In April, the Brewers Association published data suggesting that, in three months, an overwhelming amount of breweries would be forced to close due to a sharp drop in sales. The forecast was extremely gloomy, as was the case for most industries. However, the earlier-than-expected re-opening could be a light at the end of the tunnel for the craft beer world.
"The open question right now is, 'What is the on-premise going to look like when it re-opens?," Watson said.
While most states have not yet announced plans to re-open bars, clubs and other large venues, allowing breweries to re-open tap rooms would re-establish the main cash flow for a large percentage of independent breweries.
Watson reminds us that, before self-isolation started, our country was heading into St. Patrick's Day, March Madness, baseball Opening Day, hockey and basketball playoffs, and more, which all warrant extra beer sales through a variety of channels.
With all of those events cancelled and millions of gallons of beer having gone bad through the shutdown, the Brewers Association has been lobbying state and federal policymakers for an "expired beer tax credit" to alleviate some of the economic strain the past 60 days have had on the industry.
The biggest question mark about what the future will hold for the beer industry is whether people will avoid large public gatherings until there is a vaccine for COVID-19.
"Any brewery that relies heavily on revenue from their direct place of business is vulnerable over the next 12-18 months," Watson said.
A reassessment of revenue channels will be an important point of emphasis for breweries as they weigh taproom experience versus beer to go. It remains to be seen how and when consumers will head out of their houses and get back to belly-up at the bar.
Latest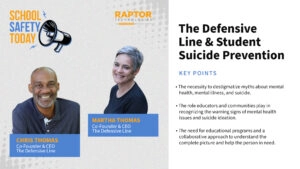 September 22, 2023
Student suicide prevention is a paramount concern among mental health providers. For one organization, student suicide prevention is more than a concern: it's their mission. The alarming rise in mental health crises among youth has become a pressing concern in recent times. With the complexities of modern life and the challenges of the digital […]
Read More