Making Healthier Easier with Healthy Franchising
What do consumers want these days? Healthy food and beverage options. While the restaurant industry faces numerous challenges in the wake of the COVID-19 pandemic, an emerging trend in restaurant franchises is offering healthy menu options. 
One such franchise, The Main Squeeze Juice Co., inspires to make healthy easier with a nutritionist-designed, superfood-inspired menu, combining nutritious and delicious ingredients that make customers feel good and promote a healthy lifestyle. So, what's the secret to creating a healthy franchise like The Main Squeeze? That's what Barbara Castiglia of Modern Restaurant Management and host of The Main Course Podcast wanted to know. 
Thomas Nieto, CEO of the Main Squeeze Juice Co., had the answers. He stumbled on to The Main Squeeze when it was just a one-store operation in Lake Charles, Louisiana. It was love at first taste. Nieto knew, on the spot, that the Main Squeeze's formula of offering incredible juices and smoothies was a perfect franchising opportunity. 
"I have a franchising background and experience, and when I walked into this location, I was blown away," Nieto said. "Coming from someone who is from South Louisiana where we have good old Cajun Creole cooking and food, I think Louisiana just ranked number one as the unhealthiest state, but when I walked into this Lake Charles location and tried all the products there, I couldn't believe it." 
Nieto saw the potential to bring healthy-choice options to more consumers. His mission is to let those looking to franchise a healthy alternative quick-service restaurant know that it is an opportunity worth pursuing. 
Castiglia and Nieto spoke on: 
The Main Squeeze Juice Co's journey to franchising

 

Franchising in the restaurant sphere

 

What makes a healthy food concept a good candidate for franchising

 

What Nieto looks for in a franchisee partner and how Main Squeeze supports them once on board

 
"We take a lot of steps to ensure we have the financial criteria and qualifications met and do our proper due diligence," Nieto said. "We want to make sure we eliminate the number one reason people fail out of the equation. And then, it must be a core value fit." 
Thomas Nieto built successful teams at AT&T for ten years before growing In & Out Smart Repair, a cell phone and electronics repair company. Nieto has served as the CEO of Main Squeeze Juice Co., where he is focused on the franchise's mission to bring healthy juices to the masses. Maine Squeeze Juice is currently in eighteen locations throughout Louisiana and Texas. 
Latest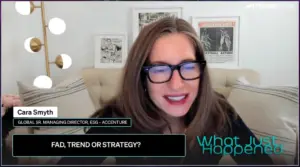 November 30, 2023
The world is in an era where sustainability and responsible retail business practices are increasingly crucial. For the latest episode of "What Just Happened," host Christine Russo further explored the hows and whys of this pressing issue by interviewing Cara Smyth, Global Senior Managing Director for ESG and Responsible Retail at Accenture, and Chair […]
Read More