Formal Concerns About Casual Dining
The "casual" in "casual dining" should not refer to the restaurant's attitude towards the cleanliness of the experience. In this episode of MarketScale's Healthcare podcast, John Shanahan, president and CEO of Ionogen, sat down with host Sean Heath to discuss the recent chemical events in a popular fast-casual restaurant, how those chemicals got there in the first place, and how to protect ourselves when dining out.
The process of protecting ourselves when dining begins the moment we step through the door, Shanahan said.
"If you walk into a restaurant and it doesn't smell clean? It isn't clean, and you shouldn't eat there," he said.
The generally accepted authority on whether or not a dining environment is clean is the local health department, explained Shanahan.
"The standards are actually the same, uniformly, across all of them, because, in every state, the health department is the guardian that watches over these restaurants to make sure that the standards for sanitation are uniformly observed," Shanahan said.
He also clarified that a shiny table is not necessarily a safely clean table.
"The leading national blue glass cleaner has 11 chemicals in it that you can't ingest," he said.
This is not a problem that is limited to "quick-serve" restaurants. "White linen" dining experiences can come with their own dangers, as well, explained Shanahan.
"The linen is typically replaced at one of those, after every single guest," he said. "Especially during flu season, someone will go out and have dinner at a 4-star restaurant. They'll have the early stages of the flu and grab the salt and pepper shaker. If you're the next person at the table, you've just been introduced to that virus, because it's been left on the salt and pepper shaker."
For the latest news, videos, and podcasts in the Healthcare Industry, be sure to subscribe to our industry publication.
Follow us on social media for the latest updates in B2B!
Twitter – @MarketScale
Facebook – facebook.com/marketscale
LinkedIn – linkedin.com/company/marketscale
Latest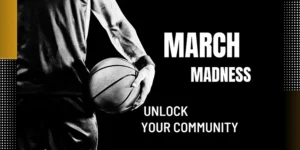 March 31, 2023
Over three weekends every March, America catches a fever. March Madness is back, in full swing, and if the latest ratings are any indicator, fans are watching college basketball like never before. As marketing and sales professionals is there anything that we can learn from marketing like March Madness?    Naturally, brands, marketers, and advertisers […]
Read More