The End of the Phone Tag Era: Advancing Consumer Experience With Healthcare Technology
Healthcare technology, with the growing inclusion of modern and digital elements, is increasingly becoming crucial for improving the consumer experience.
On the latest episode of the podcast "Dash Talk," host Gabrielle Bejarano talked with Relatient's Chief Product Officer, David Dyke, about how consumer experience is improving and how it can continue to improve with the use of advanced tools and software.
Organizations are battling inflation and staff shortages, but Dyke believes that if companies employ greater awareness, they can beat those challenges — not only in their functionality but also for the satisfaction of their consumers (or patients).
With a clear set of goals and a solid commitment to them, improvements to create and sustain a highly-functioning company are more than possible. Dyke stated that one of those proponents is laying out the concerns and prioritizing them into levels of importance, such as "tier one problems versus tier two problems," said Dyke.
He talked about how Relatient emphasizes the patient experience. Some factors include being informed on patient needs and wants, their issues and concerns, and determining how they can solve and meet those expectations.
An example of that is if a patient wants to cancel an appointment. Often, appointment cancellations can be hectic and turn into a cat-and-mouse game of trying to maintain the appointment but for a later date. Having a reliable system in place should mitigate potential issues.
"Finding that right balance in how to segment their patients … and to be able to bring that flexibility to your operations is really important," said Dyke.
When it comes to implementing the right digital healthcare technology tools in a business or practice, Dyke said that it's vital to a practice's management. And Dash Chat is pretty straightforward about connecting patients and consumers with its go-to method and staff.
"We're really excited how [Dash] chat is going to create new capabilities that we haven't candidly thought of," said Dyke.
He stated that locations, parking, operation hours, prescriptions, billing, and routine questions are examples of consumer questions that Dash Chat will facilitate. Dyke added that more organizations should prioritize how they communicate with their patients. While chat has been around for quite some time, it's not a form of connecting that practices employ enough.
"We really see chat as an underutilized resource in healthcare to help improve communications with patients and the provider organizations," said Dyke.
Latest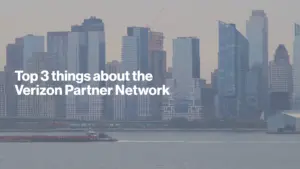 December 1, 2023
A special episode of The Verizon Partner Network focuses on an examination of an industry marked by fierce competition and rapid innovation. But most importantly, how the role of partnerships in a company's success is increasingly vital. Mark Tina, the VP of Indirect Channel Distribution and Channel Chief at Verizon, details why partners are essential […]
Read More