Applying Data Analytics and AI to Enhance Drive-Thru Performance
Drive-thrus have been a staple of the quick serve restaurant (QSR) industry and have been increasing in popularity over the years. With the pandemic, the drive-thru has increased in importance even more, and the application of data analytics and artificial intelligence (AI)  has incredible opportunity.
Host Daniel Litwin joins Ravi Sirigineedi, Global Restaurant Lead for Intel's Internet of Things Group, and Luke Irving, Founder and CEO of Fingermark, to discuss drive-thru trends, the application of AI and analytics, and where the industry is headed.
"The basis of success in this industry is all around convenience and customer experience," Irving said.
One of the biggest challenges since the onset of the pandemic has been capacity. Before COVID, the utilization of drive-thrus for QSRs was between 50-75% of a store's revenue. Now, that number is 90-95% and, in some cases, the drive-thru is now the only source of revenue.
Curbside also has a large opportunity. Parking lots can be turned into ordering bays as customers can order from their phones.
Sirigineedi noted that this change in customer behavior of using drive-thrus and curbside services is likely to continue.
Drive-thrus have often been a bottle neck and it is critical, now more than ever, to improve efficiency.
Data is providing insights to improve traffic velocity and help the restaurant utilize capacity to the fullest extent. For the customer this translates to personalized, accurate and quick service. This technology can also be used to detect customers who have left as a result of constrained capacity to understand lost revenue.
Sirigineedi adds that from an operator's perspective, AI can improve operations by automating mundane tasks which allows staff to focus on better service and value directly with customers.
"It's beyond restaurants, as well," said Sirigineedi. The drive-thru can be applied to convenience stores, supermarkets, big box retail, and other retail formats."
Learn more about hospitality and restaurants by connecting with Ravi Sirigineedi on LinkedIn or visit  https://www.intel.com/hospitality. To learn more about Intel's partner Fingermark, connect with Luke Irving on LinkedIn.
Subscribe to this channel on Apple Podcasts, Spotify or Google Podcasts to hear more from the Intel Internet of Things Group.
Follow us on social media for the latest updates in B2B!
Twitter – @MarketScale
Facebook – facebook.com/marketscale
LinkedIn – linkedin.com/company/marketscale
Latest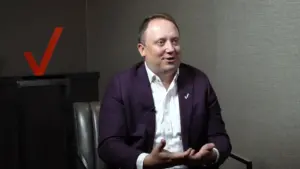 December 1, 2023
For a special episode of The Verizon Partner Network the focus was on the considerable role of partnerships in the Verizon Partner Program and the leaders shared their perspectives on the initiative. Their conversation brought about a lot of thought-providing context on the evolving telecommunications landscape. In today's era, collaboration and integration are key to […]
Read More