Virdee Wins Big at the 2023 AAHOA Tech Pitch Competition

AAHOA, the nation's largest hotel owner's association, wrapped its most successful annual convention yet. AAHOACON 23, which unfolded in Los Angeles from April 11-14 of this year, had a ton of innovation showcased, and the excitement ramped up at their annual AAHOA Tech Pitch Competition. A panel of five judges well-versed in technology and hospitality had their work cut out for them with a plethora of fantastic ideas. Still, in the end, the winning pitch came from Virdee, and their guest experience technology platform. Virdee's platform aims to help hotels free up staff resources and increase profitability and guest satisfaction.
Add Virdee to the growing list of innovators in the hospitality space looking to improve operations and guest experiences through technology solutions. They've come to AAHOA since they began operations during the pandemic. Virdee Founder, Branigan Mulcahy, shared his joy of Virdee's honor in a field of eight notable companies, ideas, and pitch presentations. "We've met many people here and established a lot of great relationships," Mulcahy said. "It's good to be part of this organization; we love the community here."
Mulcahy believes technology's time has arrived in the hospitality space, and the solutions he saw on display at the show and in the competition give him a lot to look forward to. "There's a lot of great things we learned from the other companies that presented," Mulcahy said. "There are things that help housekeeping be more efficient, and hiring and tipping, and all of these things and other technologies that come into the flow. For us, we focus on the guest experience side of things, and we truly believe that transactions at a hotel, checking in, checking out, buying an upgrade; all those things should be just as easy as ordering an Uber or DoorDash, or anything people are accustomed to in other aspects in their life."
The bottom line for the hotel industry, Mulcahy believes people shouldn't be afraid of technology. "A lot of times when you purchase a technology system, there's a lot of work involved in bringing the system live and onboarding people into the platform," Mulcahy said. "Sometimes you need software engineers to help you do that, especially for big properties. What we do is we make it super easy in that we built all the integrations already. We automate those connections and make the onboarding process very plug-and-play so that any hotelier, regardless of their technology background, can purchase our platform, connect it; we do all the hard work, and then they can be up and running it within days."
Virdee may have won big at this year's AAHOA Tech Pitch Competition, but the true winners will be the guests.
Article by James Kent
Latest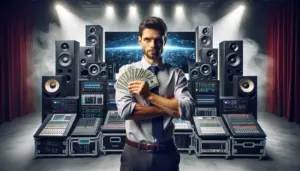 December 8, 2023
Mastering AV sales strategies in a global professional audio-visual (Pro AV) market, poised to reach $79.2 billion by 2028, requires much attention to detail. The surge in demand from corporate, government, and institutional sectors, driven by the need for enhanced productivity and efficient working environments, gives AV sales pros a lot of opportunity. In […]
Read More