T-Mobile CEO Claims to be "Two Years Ahead of Competitors" in 5G Race
US cell networks are currently in a race to lay claim to the 5G spectrum and drive value for their customers. T-Mobile US President and CEO Mike Sievert claims to be in the lead of the 5G race, and feels confident about the future of the carrier. Watch below to see Sievert discuss the wireless carrier's first-quarter performance and the reasons for his 5G optimism.
Host: Mike, you've surged ahead, you've been able to generate some sort of a lead there, the numbers really reflecting that really strongly today. My question is, is that lead sustainable?
Sievert: Thanks you know, it was another beat and raise quarter for T-mobile, and as your lead in said, we've been doing this for a while now. And it's sustainable because of the assets that we have. We have the best spectrum portfolio that's resulting in the best 5G network in this country. And increasingly, that's what consumers are looking for. You know, no company in the history of our industry has ever been positioned to simultaneously offer the best value and the best network. T-Mobile now has that privilege and we're going to use that to drive our growth.
Host: Mike, they're coming for you. AT&T, Verizon, they're getting better 5G coverage. I mean, they're coming for you. How can you maintain the lead?
Sievert: Well, they've been coming for us since 2013, and, you know, what we have is a 5G lead that's not only two years ahead because we pursued this merger, but we also have the best assets, the best mid-band spectrum portfolio. They just spent tens of billions of dollars trying to catch up in the recent auctions and failed to catch up. So we not only have the best assets, we have the best team. We have a two year head start. And the most important thing is customers are starting to notice because this industry's been talking about 5G for years, but customers are finally starting to take notice and care. And that's going to propel brand preference for T-Mobile.
Host: Do you think stimulus checks accelerated this process, do you think that fades?
Sievert: Stimulus checks are making a difference, you know, in Q1, I think we saw a lot of economic activity, there was cash in the economy and that always helps our category. You saw that with my competitors as well. But what's different is that we also have a re-opening happening. And T-Mobile is so uniquely positioned for the reopening because when switching happens and people are in retail and some amount of normalcy resumes. Well, that's that plays right into our strengths. As the net share taker in the industry.
Host: Are you seeing anything around the chip shortage issue? What number of your phones are having issues?
Sievert: Now, our orders are being filled and so we're delighted about that, we have heard about issues that others are experiencing, but we have no issues on smartphones nor on network equipment. And that probably speaks to the two year head start we had we made big multibillion dollar commitments to the big network infrastructure providers. And as a result, you know, we're seeing full support for the biggest network build this country's ever seen.
Host: How sticky do you think this whole process is going to be? Clearly, people have invested money because when they're stuck at home, they need their phones to work. Everything needs to work off it so people start going back out into the world again. How different does the model look?
Sievert: Well, it's what makes mobile unique as opposed to some of the other ways of connecting. I mean, you know, the whole world is going mobile. You know, all of the former forms of content, linear content, et cetera, have moved to the internet and the internet is going mobile. And we've seen in the last year and a half how important people's connections are and they need to be modern contemporary connections. And that's why we just unveiled magenta max, the industry's only true unlimited plan, because we know people are going to be leaving their homes and getting back out in the world, and they need that connection to be 5G and unlimited.
Host: And Mike, let's talk about the business part of the segment. You've got a dedicated sales force now selling into the enterprise segment. Can you give us some numbers on that? And if it's really good? Help us understand what that means. Quantify it.
Sievert: Best quarter in a long time for business, and it's a huge tailwind for our growth, you know, we have less than a 10% share in the big enterprise sector. That means 90% of the customers are with someone else. And yet we're able to offer the best 5G network at the best prices. And so we're gaining share rapidly and we see this as a big opportunity. We told investors last month we see our clear path from 10% shares to 20% shares during our planning horizon.
*Bloomberg contributed to this content
—
Follow us on social media for the latest updates in B2B!
Twitter – @MarketScale
Facebook – facebook.com/marketscale
LinkedIn – linkedin.com/company/marketscale

Latest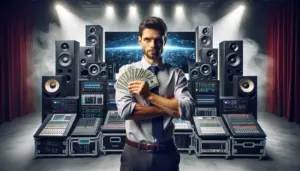 December 8, 2023
Mastering AV sales strategies in a global professional audio-visual (Pro AV) market, poised to reach $79.2 billion by 2028, requires much attention to detail. The surge in demand from corporate, government, and institutional sectors, driven by the need for enhanced productivity and efficient working environments, gives AV sales pros a lot of opportunity. In […]
Read More