The Playbook for Tackling Enterprise Cloud Security
On this episode of Fiberside Chat, a 3-GIS podcast, host Daniel Litwin and guests Damion Harrylal, 3-GIS Solutions Engineer, and Keith Mokris, Director of Product Marketing for Prisma Cloud at Palo Alto Networks, got right to the point.
In the post-pandemic era, companies are operating in a landscape featuring more cybersecurity risk than ever before, and migration to cloud solutions is further opening enterprises up to bad actors looking to prey on hurriedly implemented systems.
The two guests gave the security of the overall cloud a "B" grade, though it came with a caveat. That grade is indicative of the tools cloud service providers offer, but newer organizations and less-experienced ones in keeping their interactions with the cloud safe may fall significantly short of that mark.
"The cloud is incredible secure if you're just looking at what the cloud service providers are delivering to their customers," Mokris said. "But, when you look at how organizations or telcos are using the cloud, that's when you might evaluate organizations based on their maturity and how they're looking at security of their applications and environments."
So, how can enterprises begin to better protect themselves and their systems while still providing an open and collaborative ecosystem?
Listen to the entire episode to find out.
Follow us on social media for the latest updates in B2B!
Twitter – @MarketScale
Facebook – facebook.com/marketscale
LinkedIn – linkedin.com/company/marketscale
Latest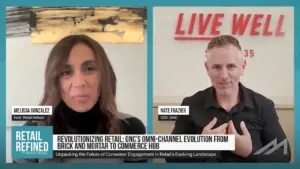 November 29, 2023
The transformation from a traditional brick-and-mortar store to an integrated commerce hub is crucial in the fast-evolving retail landscape. GNC's omni-channel evolution epitomizes this shift, blending in-person and digital experiences to meet the contemporary consumer's demands. But what does this mean for the future of retail? "Retail Refined," hosted by Melissa Gonzalez, welcomes Nate […]
Read More