The Weekly Scale: April 19th, 2021
This week at MarketScale, we finish launching some of our newest contributor podcasts, explore the conversations powering industrialized construction, and debate if automation will kickstart career growth.
It's the start of a new week, and it's time to scale up.
The demand for automation and new technology is forcing retail outlets to change how they do business.
On the newest episode of Vertical with Vidir, we explore how the retail industry is rethinking is relationship with automation to support fulfillment and inventory management as the retail bounceback continues to rage on.
Getting an accurate real time look at every moving part of operations in industrial spaces can be enlightening if not overwhelming.
The new podcast series Seeing, Moving, Tracking by Redpoint Positioning, aims to bring insights across the warehousing, industrial management and operations world.And first up is tackling how to obtain real-time data from the floor.
You've got a great idea — but how do you turn it into a winning business? On The Startup CEO, Luke Fox and Jeff Graham will be offering insights for first-time company leaders, strategizing around how to make the most of your products, personal leadership, people management, key metrics, and more. It's time to get to work.
If you were to describe today's construction and industrial landscape in a word, interconnected might be the ideal one. On "Cross-Sections," host Anthony Gude will sit down with an industry leader for a 10-minute conversation in search of those "aha moments" that present incredible opportunities for collaboration and growth.
We hear a lot about automation eliminating jobs, but the reality is that there is a skills gap right now and there are a lot of great jobs in manufacturing that need qualified workers. Why is that? On this week's MarketScale Roundtable, we'll explore how robotics help advance and extend the careers of current workers.
The panel will include:
Vince Martinelli- Righthand Robotics
Make sure to follow along for future roundtables. We will also be checking out how companies are Building the Retail of the Future on April 26th.
I'll be back next Monday for The Weekly Scale but, until then, if you know of a story that you want us to cover, let us know with the hashtag B2BNeverSleeps.
Follow us on social media for the latest updates in B2B!
Twitter – @MarketScale
Facebook – facebook.com/marketscale
LinkedIn – linkedin.com/company/marketscale

Latest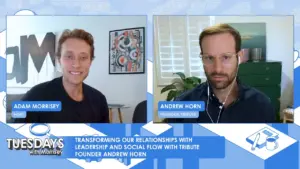 November 28, 2023
Can relationships be transformed through leadership and social flow? Navigating the intricate web of digital relationships can be a tricky proposition. Tuesdays with Morrisey's Adam Morrisey uncovers the transformative impact of emotional recognition in the workplace with Andrew Horn, the mastermind behind Tribute. This podcast edition unravels the story of a platform redefining how […]
Read More