Business Casual: Signal App Downloads Escalate, Offering Enhanced Protestor Privacy Protection
Spiking in downloads while other "encrypted" messaging platforms like WhatsApp and Telegram stagnate, on this segment of Business Casual, Daniel Litwin, Taylor Bagley and Tyler Kern discuss the unprecedented rise in downloads of the privacy-focused Signal app since the unfortunate and highly-controversial death of George Floyd, a black man who tragically died after a white Minneapolis police officer, Derek Chauvin, pressed his knee into Floyd's neck for nearly nine minutes.
In August of 2014, Michael Brown, Jr., an 18-year old unarmed African-American man was fatally shot by a white police officer in the city of Ferguson, Missouri, a suburb of St. Louis, erupting in both peaceful anti-police protests as well as civil disorder. According to hundreds of documents obtained through a Freedom of Information Act request, since that time, the Department of Homeland Security (DHS) has been monitoring the Black Lives Matter (BLM) movement, frequently collecting information, including location data, on BLM activities from public social media accounts, including Facebook and Twitter. The reports also show the DHS watching over those events which are expected to be peaceful, including a nationwide series of silent vigils, a funk music parade and a walk to end breast cancer in the nation's capital. The tracking of domestic protest groups and peaceful gatherings raises questions over whether the DHS—a department created in large part to combat terrorism boasting a budget in excess of $50 billion annually—has allowed its mission to slink over the limits of useful security activities.
More recently, protests, both nationwide—in all 50 states—and globally, calling for the end to police violence against black citizens, have been sparked by the death of George Floyd on May 25th. Though most of the protests over systemic racism in America over the past weeks have been peaceful, violence and looting has also increased resulting in a ramp-up of surveillance by the US government, including the use of drones and facial recognition cameras during protests, IMSI catchers which intercept and read text messages, as well as the Justice Department's sanctioning of the DEA to "conduct covert surveillance" against protesters and "share intelligence" with other law enforcement agencies.
In response to these measures and as protests against police brutality continue to sweep across the U.S., American's app downloads have shifted concurrently. In fact, as of June 3rd, Signal, a messaging, calling and video app whose encryption keeps people's communication hidden in the event that their phones are stolen, hacked or confiscated by police, has become one of the top 10 most downloaded social apps on iOS for the first time—downloaded 121,000 times since Floyd's heartbreaking death, and now garnering 289,277 user ratings in total. Signal's end-to-end encryption provides a method of communication where only the users that are involved in a conversation have the encryption keys required to read messages, enabling protestors to coordinate their actions while preventing eavesdropping by third parties with a feature that blurs faces from photos to protect their privacy and prevent them being identified and possibly charged later on.
Bagley, Kern, and Litwin discuss the mix of variables that continue to create unrest in our country, whether the encrypted apps that currently prioritize user privacy will eventually share user data and their responsibility as private entities if the spike in Signal downloads represents an opportunity for new privacy-focused messaging apps to enter the marketplace and the features they should incorporate, and how not only individuals but companies as well will react to escalated surveillance by authorities.
Tune into the Business Casual podcast each Wednesday and Friday to stay abreast of the recent trends and hottest topics impacting B2B. And, be sure to check out MarketScale's industry pages for the latest thought leadership, news and event coverage across B2B.
Follow us on social media for the latest updates in B2B!
Twitter – @MarketScale
Facebook – facebook.com/marketscale
LinkedIn – linkedin.com/company/marketscale
Latest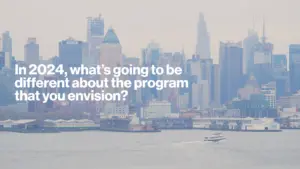 December 1, 2023
In the dynamic telecommunications landscape, Verizon's Partner Network continues to evolve, adapting to new trends and opportunities. For another segment featuring Mark Tina, VP of Indirect Channel Distribution and Channel Chief at Verizon Business Group, he explores exactly what types of significant changes and advancements the Verizon Partner Network will see in 2024. In this […]
Read More