Advanced Manufacturing: Let's Talk About Biden's Initiative
3D printing applications are everywhere, from medical to emergency response infrastructure and even 3D-printed clothes. And one of the questions Ron J Stefanski, host of the DisruptED podcast, frequently gets from viewers of the show is: can that really be 3D printed? To answer those burning additive manufacturing questions, Stefanski thought it high time he brought on a 3D printing expert to discuss it. At the recent IMTS Conference, Stefanski met the CEO of FasTech Engineering, Alan Pearce. Pearce leads a company focused on disruption through its 3D metal printing and milling process. So, what drove Pearce, a longtime machinist, to start FasTech in 2018?
"I've seen over the years the amount of waste that we've created when we've manufactured parts, and in particular titanium components for aerospace structures, where there can be up to 85% waste in the component," Pearce said. "But also, there's a huge cost. There's a huge waste of material and recycling costs, time, loss of roughing applications, etc. In 2017, I went to an exhibition, and I saw this piece of equipment, a Gefertec machine, and they were printing huge titanium parts. It was the first time I'd seen that technology, and I got excited about it." Taking a leap of faith, Pearce decided to make an investment and start FasTech.
Stefanski and Pearce also discussed…
•Overcoming the challenges of 3D printing at scale
•FasTech's relationship with Siemens and other large-scale companies
•Working with college students who will propel additive manufacturing to the next level
"When I started the business, I brought in both young people that have been on the college course, third-year program in advanced machining, and a couple of interns in the first couple of years," Pearce said. "Many people said to me; you haven't got a more experienced, maybe well-rounded, forty or fifty-year-old person that's going to run this business, technically. You just got this bunch of very young people who have come through the program. I looked at it as a social experiment. Could you take a load of young brains, put them together, and then they can manufacture 5X's very complex components and materials like titanium or Inconel to aerospace standards? And it's worked out."
Latest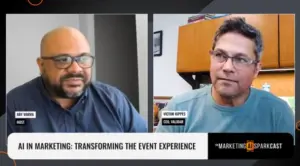 November 28, 2023
AI has been gradually changing the landscape of event technology at a very rapid pace. In an industry where staying ahead of technological trends is crucial, AI's impact on marketing and event management has become increasingly significant. As witnessed in the rise of account-based marketing and enhanced personalization, AI is effectively reshaping how events […]
Read More