Demystifying the Access Control and Physical Security AV Markets
The fusion of AV technology and security is stirring up conversations in the access control and physical security worlds. On this episode of Pro AV Today, host Ben Thomas explores this intersection with guest John Neyenhouse from Integrated Security & Control.
Here are a handful of topics they cover:
Integration Evolution: The transition from analog to IP-based systems is driving a closer relationship between AV, IT, and physical security, aiming for streamlined management and enhanced user experiences.

AI and Machine Learning: These technologies are being leveraged for quicker video searches, real-time alerts, and analytics, showcasing a significant leap from traditional security surveillance methods.

Residential Tech Influence: How trends in residential tech are spilling over into commercial installations, pushing the AV professionals to adapt to emerging consumer expectations.

Ease of Installation and Serviceability: The emphasis on making tech installations and troubleshooting more user-friendly and less time-consuming, reflecting a shift towards remote management.

Digital Signage Utilization: An underutilized bridge between security and AV – employing digital signage for dynamic communication, especially in critical situations like emergency alerts in schools or buildings.
Latest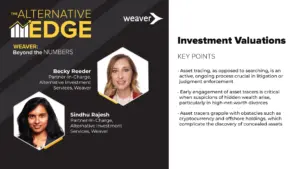 December 4, 2023
In this episode of The Alternative Edge, a Weaver: Beyond the Numbers Podcast, host Becky Reeder, an audit partner and co-leader of the alternative investments practice at Weaver, engages with Sindhu Rajesh, an Alternative Investment Services Partner with Weaver. They unpack the complexities of venture fund valuations, offering critical insights into industry dynamics and best […]
Read More