How the Creator Economy Impacts the Broadcast and AV Communities
In our latest Pro AV Today episode, Ben Thomas welcomes a leading voice in the broadcast and AI worlds, Jordan Woods from Perifery (a division of DataCore), to delve into a dialogue on the intersection of the creator economy and its transformative effects on the broadcast and AV communities.
The creator economy has seen a significant surge in recent years, largely due to advancements in technology. Yet, its impacts on industries like broadcast and AV have remained relatively unexplored. This episode aims to bridge that gap.
Jordan Woods, with his rich experience and strategic vision, provides a unique vantage point. He focuses on how the creator economy is democratizing the accessibility of broadcast and content creation tools. Historically, these tools have been a reserve for industry giants due to their cost and complexity. However, with the rise of the creator economy, a paradigm shift is underway.
Jordan emphasizes three key aspects of this transformation: affordability, scalability, and access. He explains how cost-effective solutions are replacing expensive, high-end tools, removing the significant financial barrier that independent creators have traditionally faced. Furthermore, he discusses the scalability of modern solutions, which allow creators to start small and grow their setup as needed, without considerable upfront investment.
Lastly, Jordan points to how improved access to these tools is driving inclusivity and innovation. More creators can now enter the field, offering fresh perspectives and diversifying the content available to consumers. This, in turn, fosters a more vibrant, dynamic industry.
By illuminating these points, Jordan invites listeners to envisage a future where the broadcast and AV industry is more accessible and inclusive, shaped by the contributions of numerous independent creators.
Tune in to the episode above for an insightful discussion that opens up a new dimension in understanding the influences of the creator economy on the broadcast and AV communities.
Latest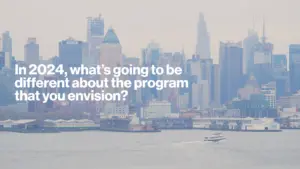 December 1, 2023
In the dynamic telecommunications landscape, Verizon's Partner Network continues to evolve, adapting to new trends and opportunities. For another segment featuring Mark Tina, VP of Indirect Channel Distribution and Channel Chief at Verizon Business Group, he explores exactly what types of significant changes and advancements the Verizon Partner Network will see in 2024. In this […]
Read More